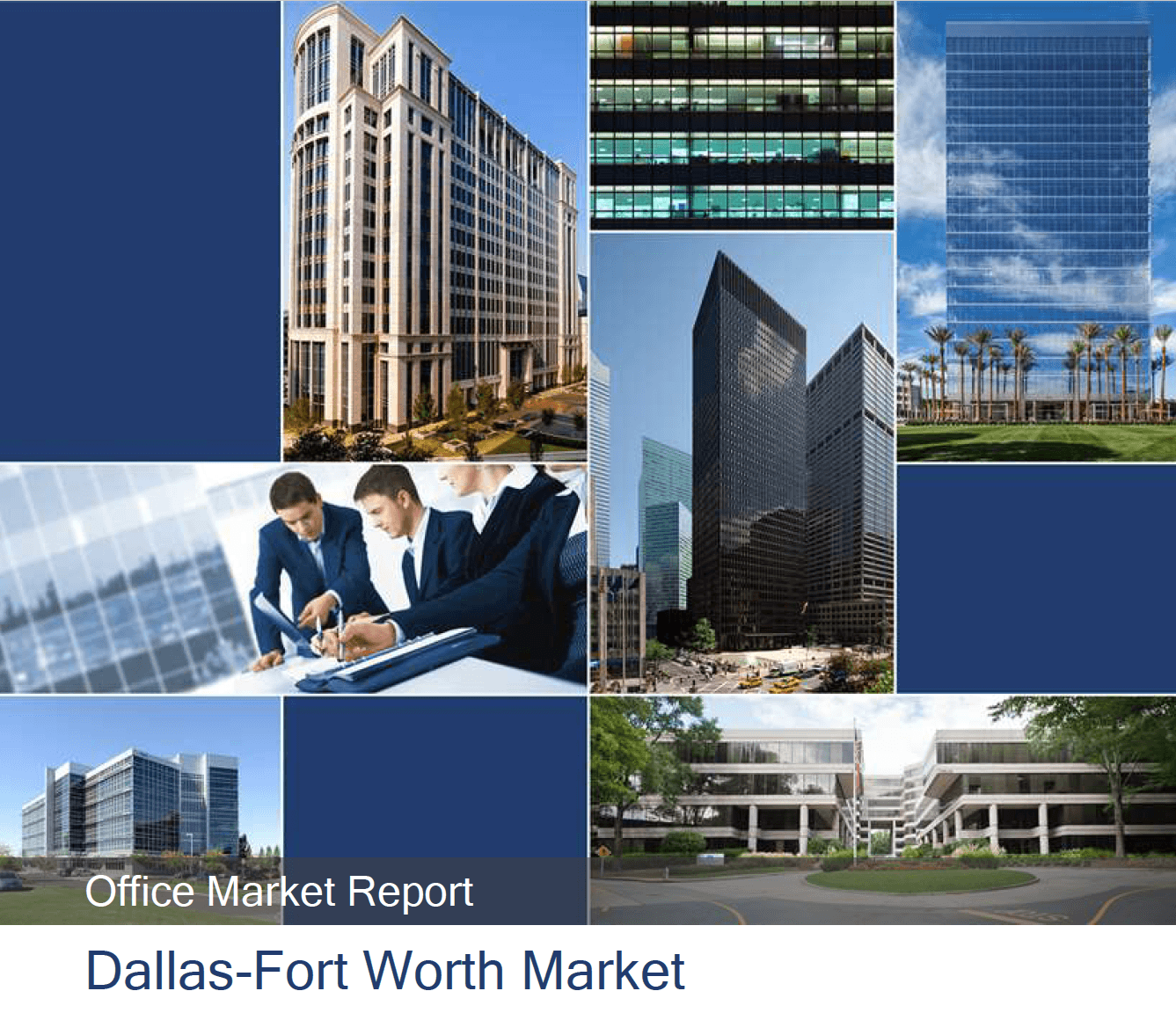 Per CoStar, the Dallas-Fort Worth office market is as healthy as it's been in decades and is slowly moving into the cycle's next phase. Sustained job growth in office-using sectors has translated into some of the strongest demand in the country over the past three years, keeping vacancies below the last cycle's low. While supply levels peaked in 2017, occupancies hardly took a hit because a significant portion of that new space was accounted for by the Toyota, Liberty Mutual, and JPMorgan Chase build-to-suits in Legacy West.
Despite the generally positive outlook, it's likely that the best years of the cycle are in the rearview mirror. A number of major speculative projects have recently delivered or are set to deliver over the next few quarters, and rent growth has also cooled off from mid-cycle highs. In terms of transactions, pricing is at all-time highs, but inventory turnover has dropped off compared to earlier this cycle. However, as long as the U.S. economy maintains its current pace of growth, Dallas-Fort Worth's office market should remain a prime beneficiary. Office-using job growth and demand are expected to outperform the national averages over the next few years.

Leasing
Corporate relocations and expansions continue to drive office demand in the metroplex. Thanks to its low business costs relative to those of coastal markets, incentive packages offered by the State of Texas, and its central location nationally, Dallas-Fort Worth is benefiting from an influx of large-tenant expansions. In 2017, Toyota moved to Legacy West in Plano from Torrance, CA (L.A. metro), and Erlanger, KY (Cincinnati metro), as part of a nationwide consolidation. Also in Legacy, Liberty Mutual is moving roughly 5,000 jobs to its new 1-million-SF campus, and JPMorgan Chase just finished a major regional campus as well. Other companies, such as FedEx Office, which moved into 265,000 SF in 15Q4, and Fannie Mae, which took 324,000 SF in 17Q4, provide further examples of major tenants opting for large build-to-suits in the northern suburbs.
Even the Dallas CBD is attracting some sizable relocations and expansions. For example, AT&T announced that not only is it staying at its headquarters in the CBD, but it is adding 1,500 jobs there in the next few years, and Jacobs Engineering added hundreds of jobs at its Downtown Dallas location as it relocated its headquarters from Southern California. In other major moves, Goldman Sachs consolidated its D-FW operations into 175,000 SF at the Trammell Crow Center, and Steward Health relocated from Boston into 67,000 SF at 1900 Pearl in early 2018.
Thanks to robust growth in office-using job sectors, net absorption was about 7 million SF in both 2014 and 2015. While absorption slowed in 2016, it rebounded in 2017. However, most of that demand came in the form of build-to-suits: Absorption in multitenant office buildings in 2017 was negligible. The good news is absorption in multitenant buildings picked back up in the first three quarters of 2018. Also, nearly all of the net absorption over the past few years has come in 4 & 5 Star assets, signifying a strong flight-to-quality effect. The demand outlook looks bright. D-FW is projected to generate some of the strongest office-using employment growth in the country.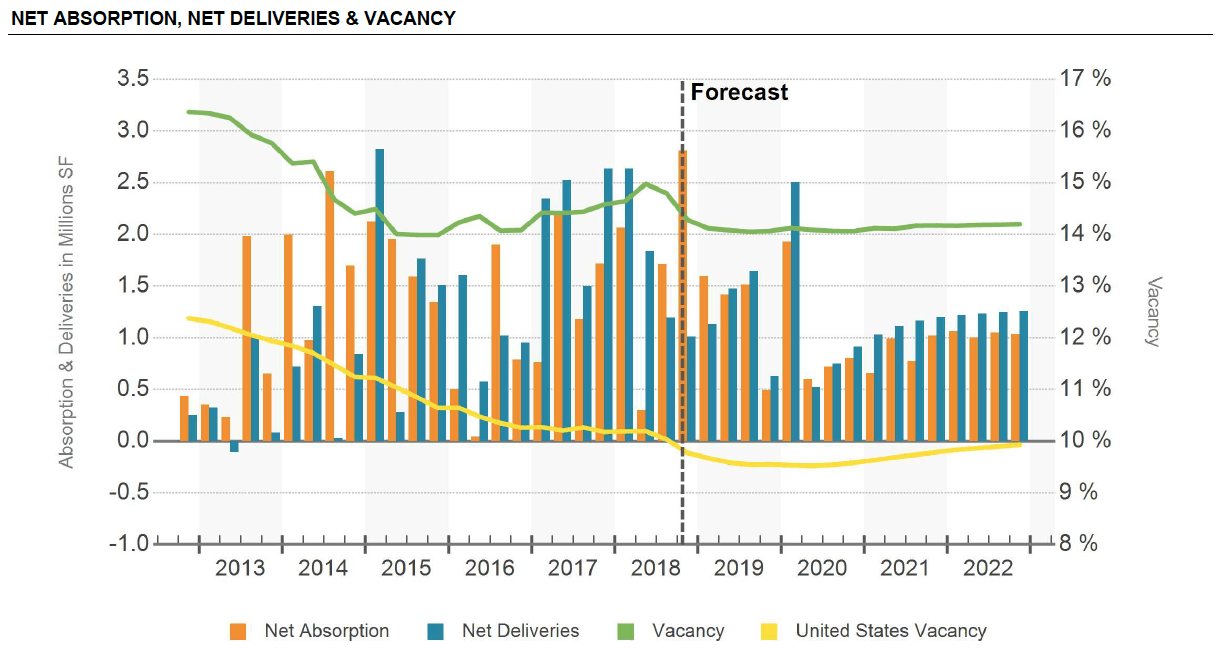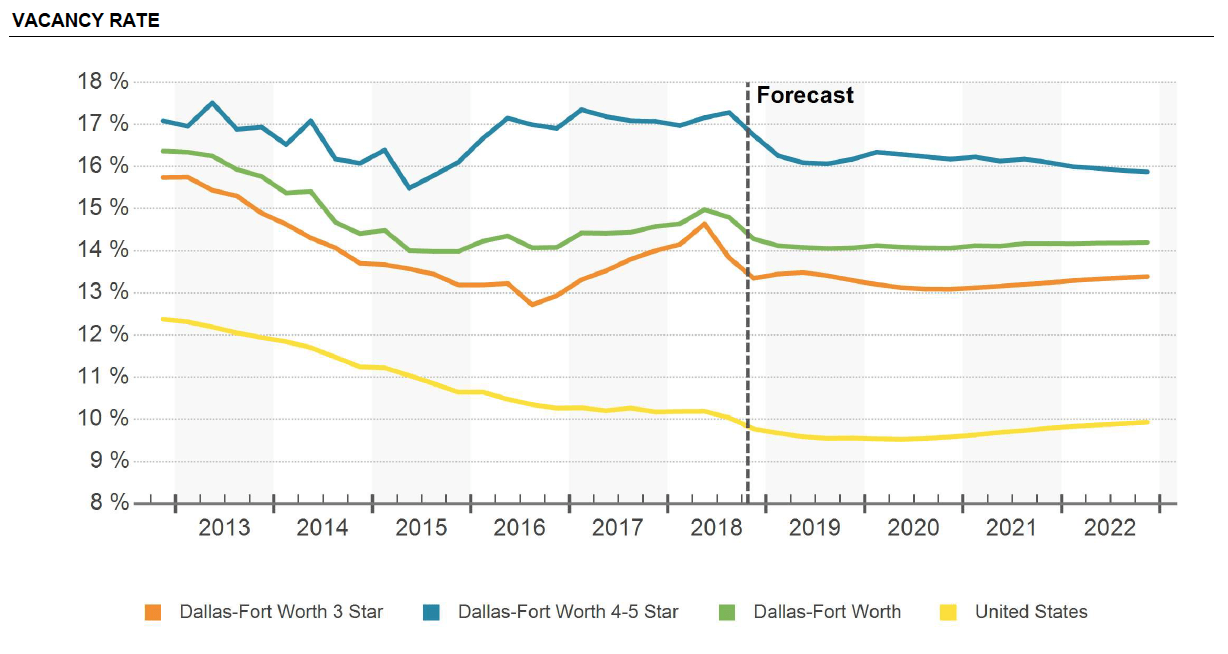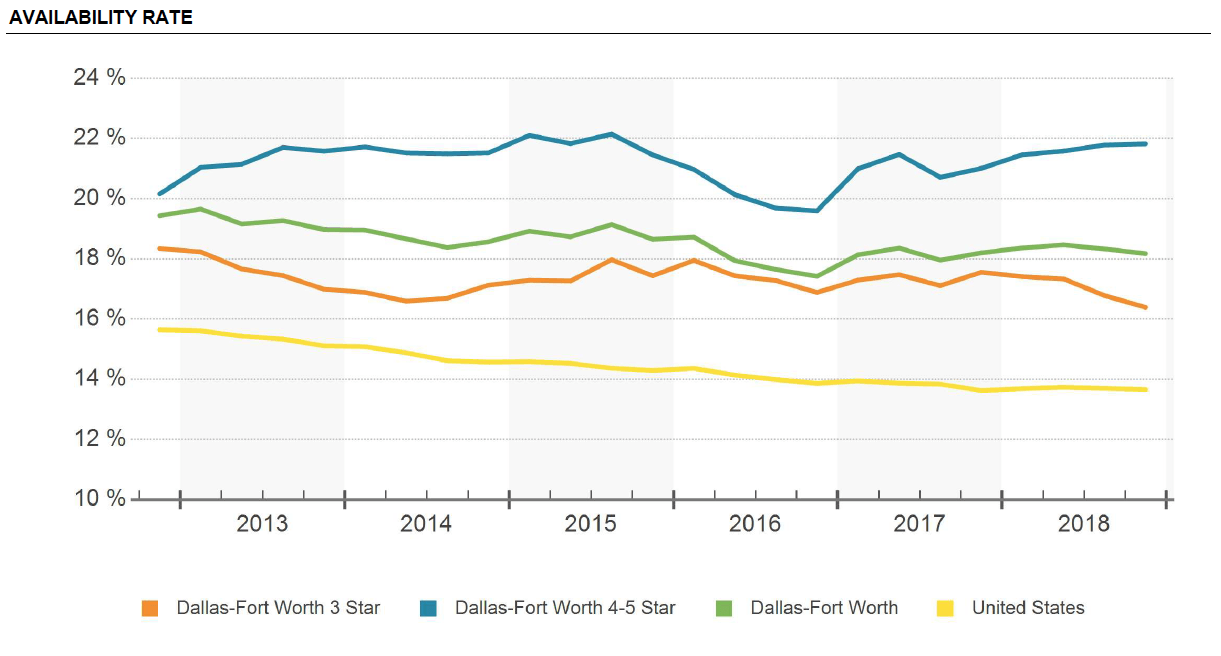 NEW SUBLEASE AVAILABLE
Even with our lack of office space in DFW, we have some good news for any company seeking this area. A new 4+ year sublease recently became available within the LBJ Freeway system. The full 11th floor (or a partial) of Three Lincoln Centre is now open for subleasing.  The landlord wants to close right away offering $1.2M in savings.
The property has 32,423 SF of space with Knoll furniture available in an efficient layout. Many amenities come with this space including conference facilities, high-tech wiring, global executive suites, fitness, food services, and the Lincoln Hilton Hotel with 500 guest rooms.
Have your broker contact me or call me directly for more information at 972-386-9181.
Click here for the Lincoln Centre, 11th Floor Flyer.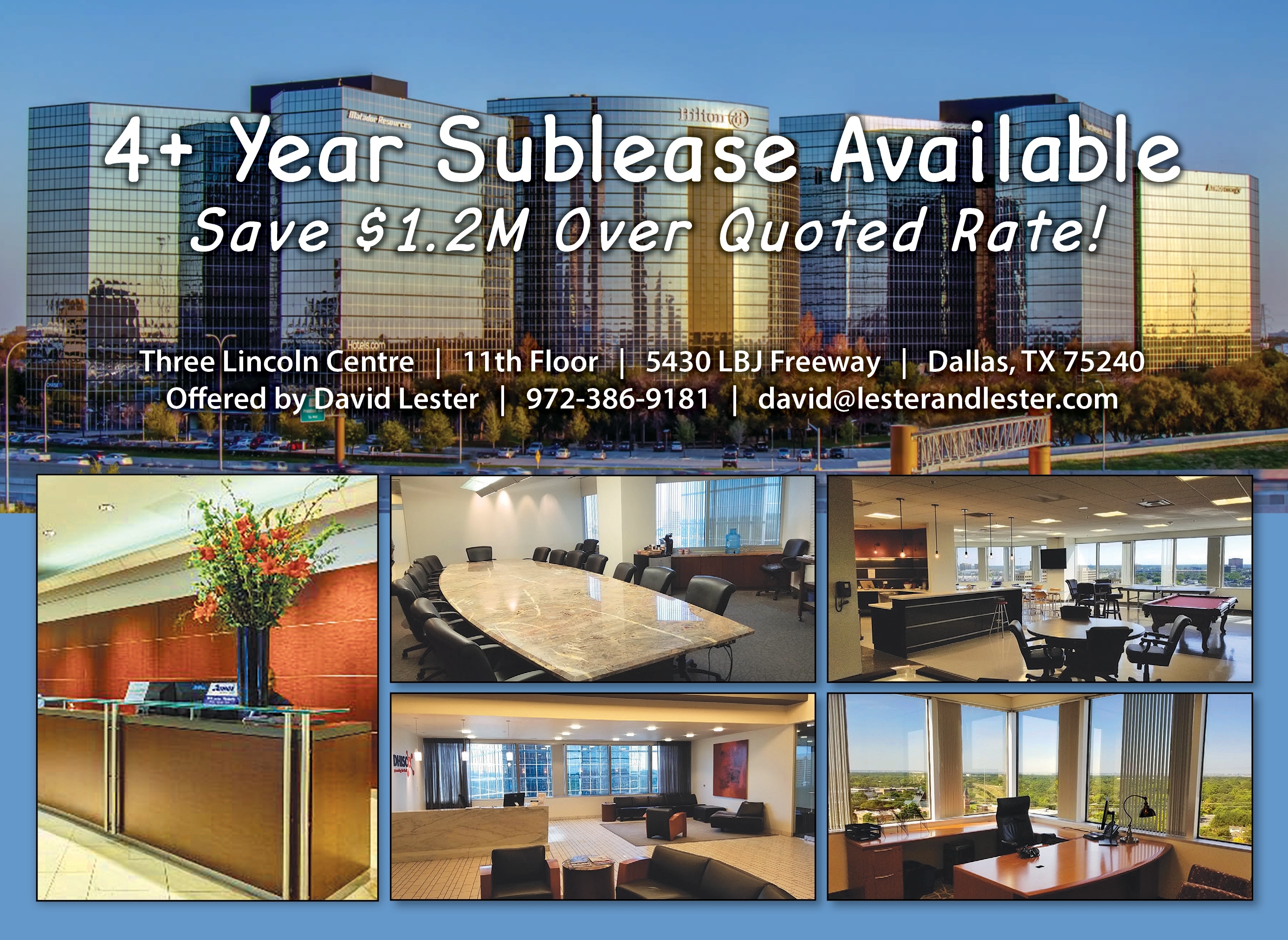 Net Absorption SF in Other Select Buildings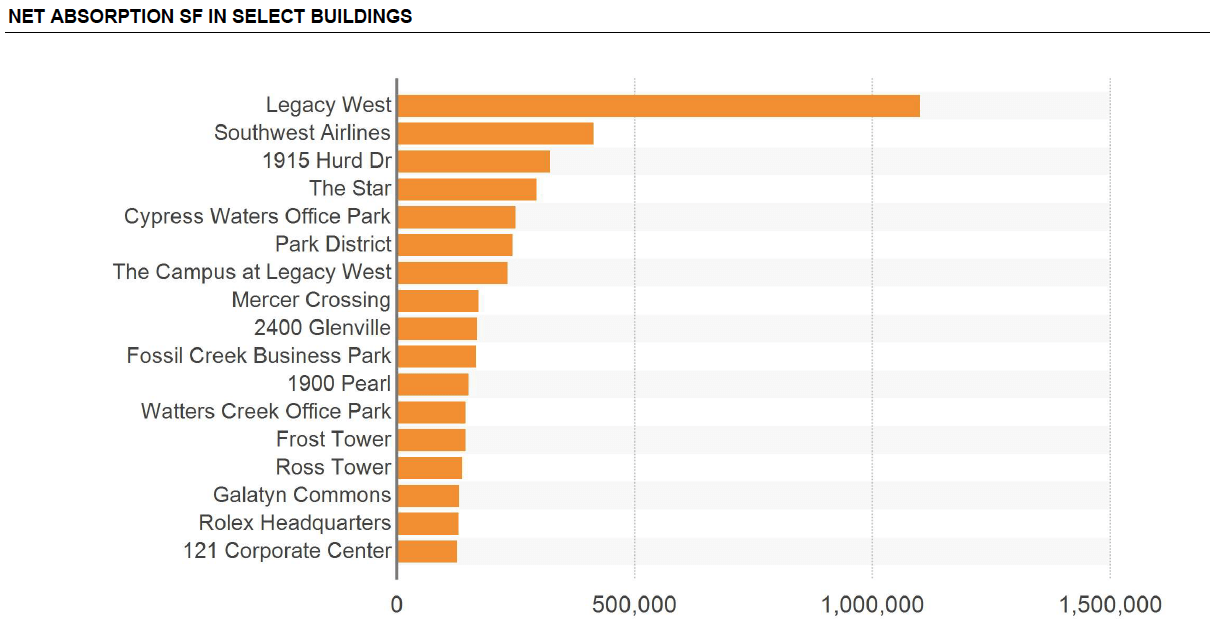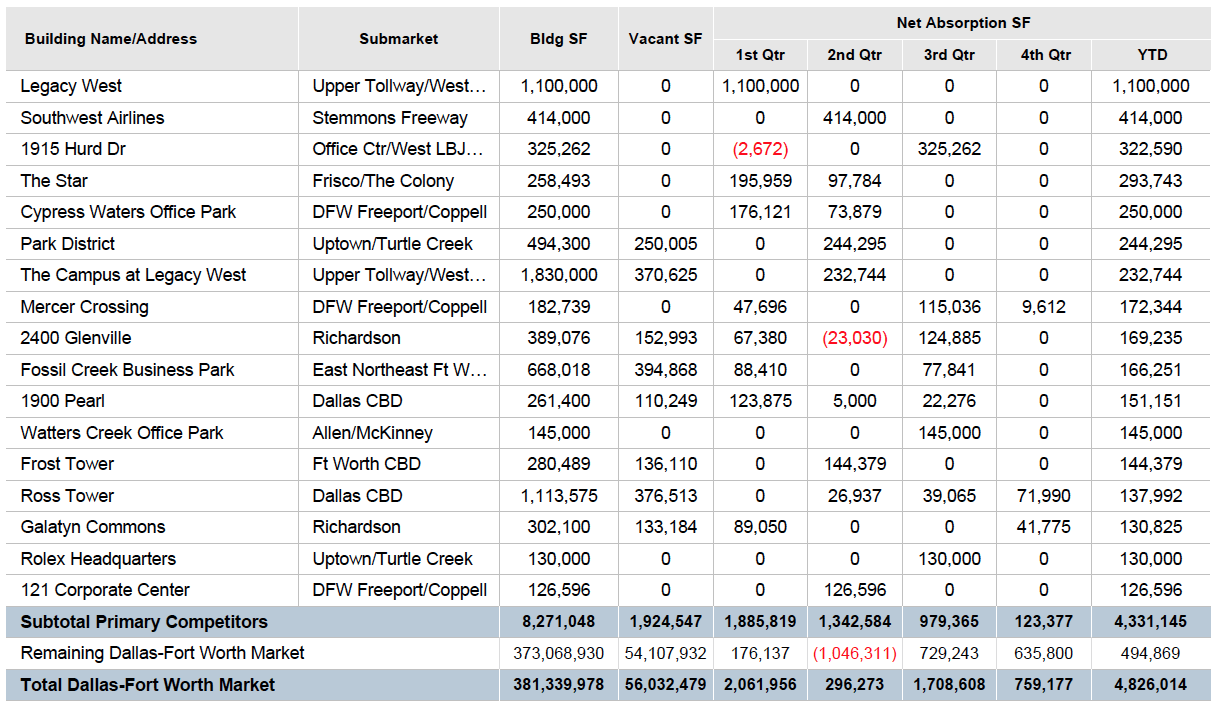 Rent
The best years of rent growth are probably in the rearview mirror. In particular, the increase in speculative supply has helped give tenants more bargaining power in recent quarters. However, rents are more than 15% above their prerecession highs, which is ahead of the national average. Furthermore, rent growth has remained above the metro's historical average, and recent gains have outpaced the national average as well. Just don't expect rents to undergo a sizable pop like they did from 2013–15.
Marquee submarkets like Uptown/Turtle Creek and Upper Tollway/West Plano have outperformed this cycle. Those submarkets boast a high proportion of newer, high-quality space, and rents on both exceed their prerecession peaks by more than 20%. Submarkets with a heavy concentration of high-quality, 1980s-era stock, such as Preston Center and DFW Freeport/Coppell, have also done well over the past few years. Rent growth laggards this cycle include submarkets in the Mid-Cities, in older Dallas suburbs, and on the Fort Worth side of the metroplex.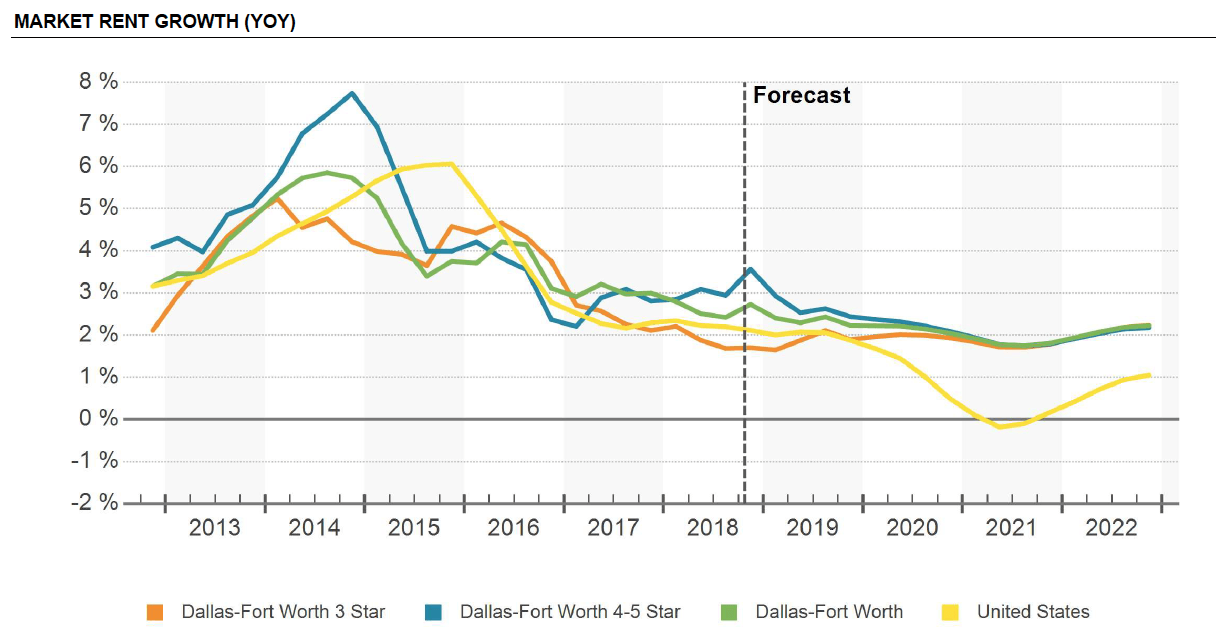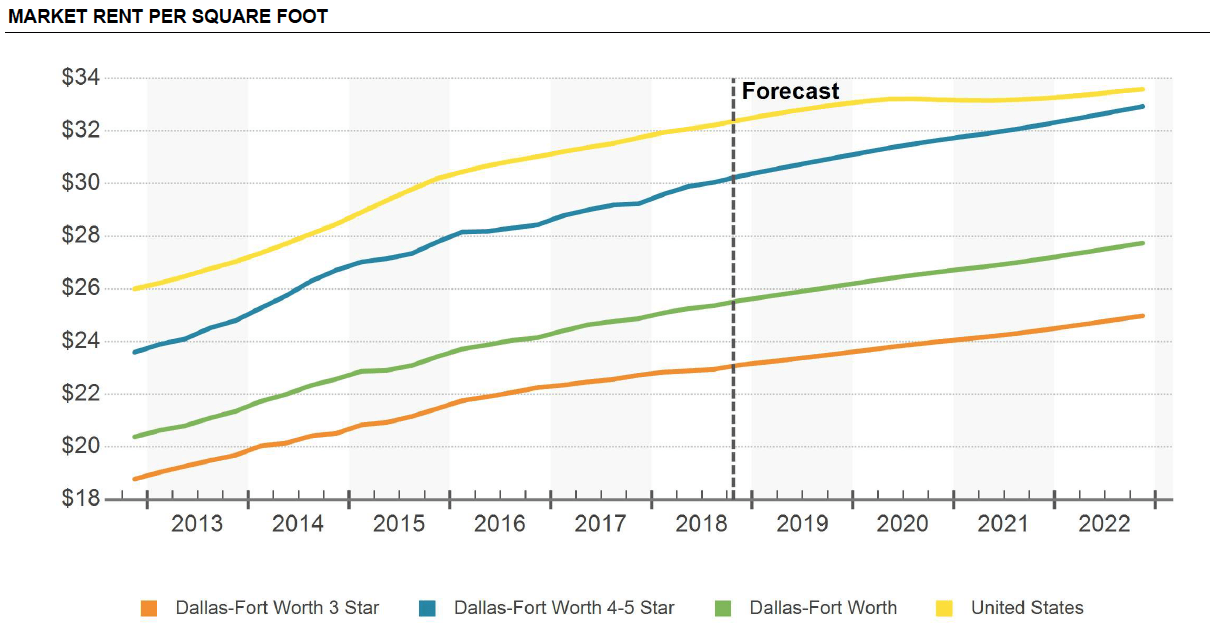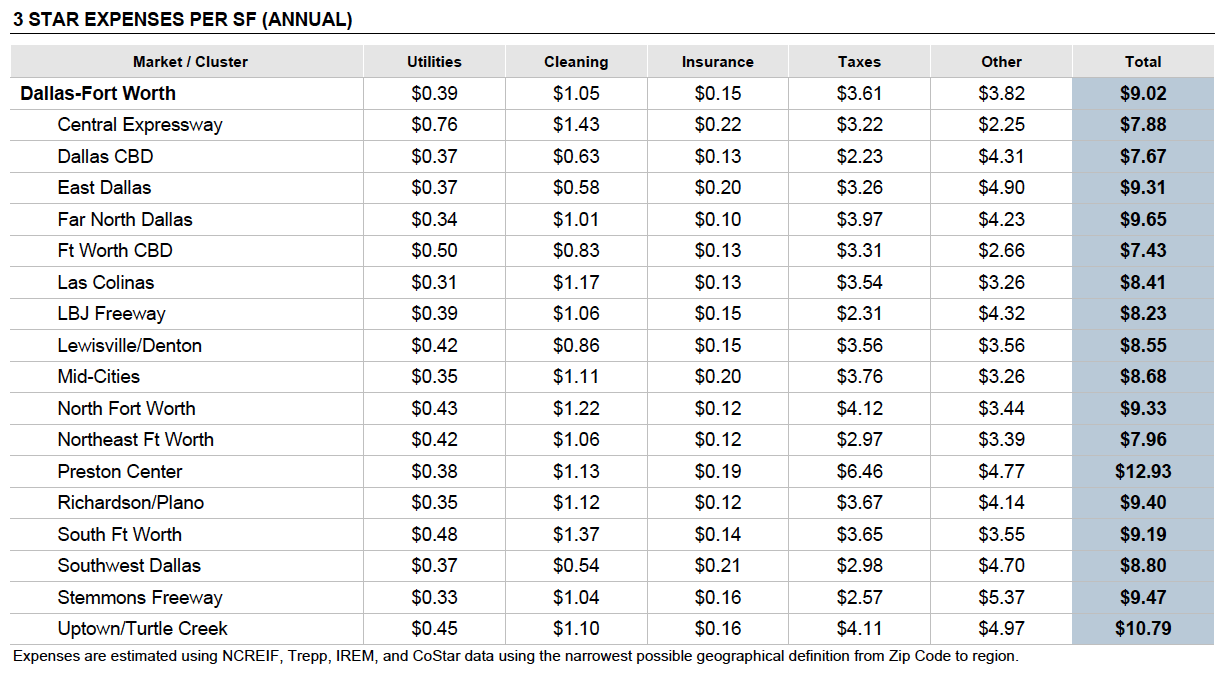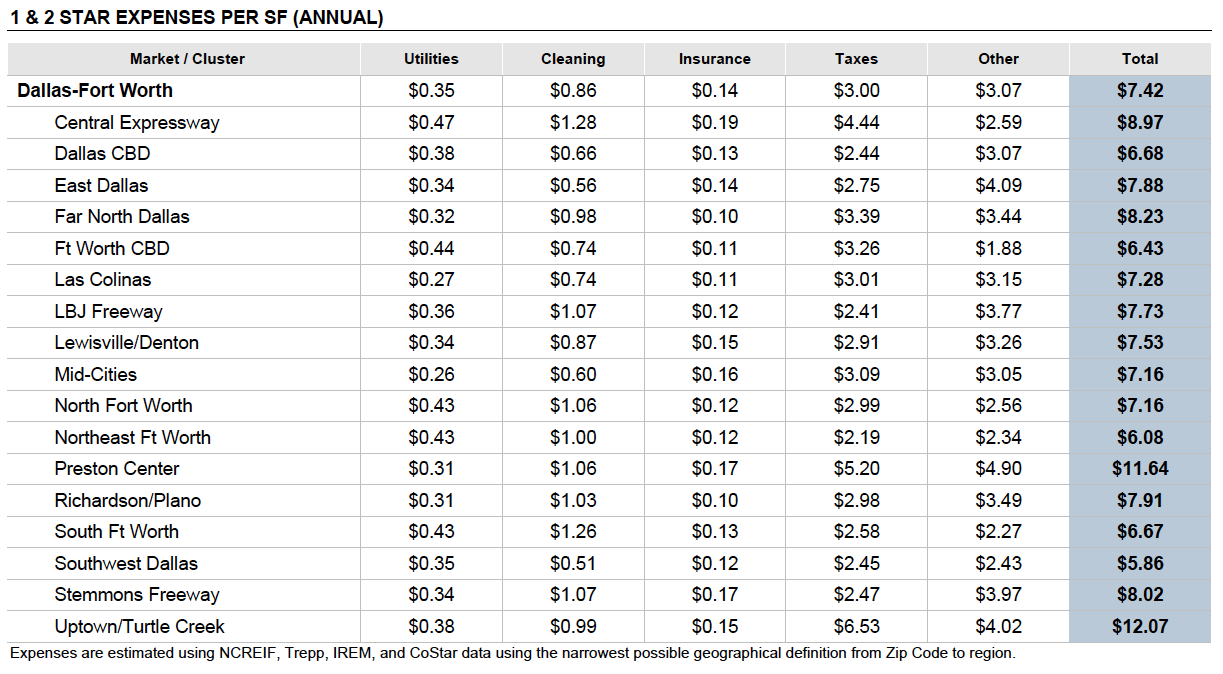 Economy
Dallas-Fort Worth's affordability, location, and quality of labor continue to attract major employers. The cost of business is an obvious consideration for any company looking to expand or relocate, and for companies weighing the metroplex against major coastal cities like Boston or San Francisco, the price differential can be substantial. Business costs in Dallas-Fort Worth are roughly even with the national average, while costs in many coastal cities are more than 20% above that. Plus, policies at both the state and local levels tend to be business-friendly—D-FW cities often dole out generous tax incentives to entice big new office, retail, and industrial tenants. As long as population growth in those cities remains strong, they will likely be able to afford more incentives. Furthermore, many companies find it more cost-effective to build brand-new mega campuses in D-FW than to renew when their leases expire. The metroplex is an attractive place to conduct business for other reasons as well. The metro's location in the center of the country makes flights to either coast manageable, a plus for corporate executives. Also, Dallas-Fort Worth is a major distribution hub, upping its appeal for companies that manufacture and ship goods throughout the country. Lastly, D-FW has a deep, well-educated employment base, allowing corporations to relocate there without sacrificing quality of labor.
D-FW's diversified economy should continue to hum right along. Abundant job opportunities have spurred significant population growth due to in-migration. Population growth in the metroplex is more than double the U.S. average and has topped the nation over the past few years. Net migration continues to rank among the highest in the country, exceeding the highs from the past cycle. This in-migration continues to help spur growth in office-using employment sectors such as professional and business services, which increased by roughly 25,000 jobs over the past 12 months. A handful of Fortune 500 companies are establishing regional or national headquarters in the northern Dallas suburbs, so employment growth in these sectors over the next five years should remain strong and provide further growth in D-FW.
A number of high-profile companies across various sectors have relocated or expanded operations in D-FW, which should keep employment growth in the metroplex rolling. State Farm finished their regional expansion in 2016 and now occupies 2 million SF in the CityLine development in Richardson. In 2017, Toyota moved into its 2-million-SF North American headquarters at the Legacy West development in Plano. The company relocated its sales, engineering, and finance operations from California, bringing about 4,000 jobs, and it has plans to eventually add thousands more. Another major headliner is Liberty Mutual Insurance, which added around 5,000 jobs in Legacy West. It doesn't stop there, though, as Charles Schwab will bring 2,600 jobs to Westlake in 2019 and could add 2,400 more at full build-out. Furthermore, existing employers like AT&T, 7-Eleven, JPMorgan Chase, USAA, and Fannie Mae are expanding their local footprints.
Dallas-Fort Worth is under-credited for its diversification and doesn't need expensive oil prices for sustained growth. Oil was struck east of Dallas in the 1930s, which brought many companies to the metroplex, making it one of the first international energy hubs. But many of those companies have slowly shifted operations to Houston over the years, maintaining a smaller D-FW workforce, made up primarily of executives who didn't move to Houston. Case in point: Exxon Mobil. The company's corporate headquarters is in Irving, but for all intents and purposes, its main operations center is located at its 3-million-SF campus in Houston. While D-FW is still above average in terms of employment in natural resources and mining, the effects of the latest oil bust were confined mainly to the Fort Worth side of the metroplex, where many energy-related companies are located. Even so, Fort Worth appears to have weathered the storm and could see significant upside if oil prices continue to rise.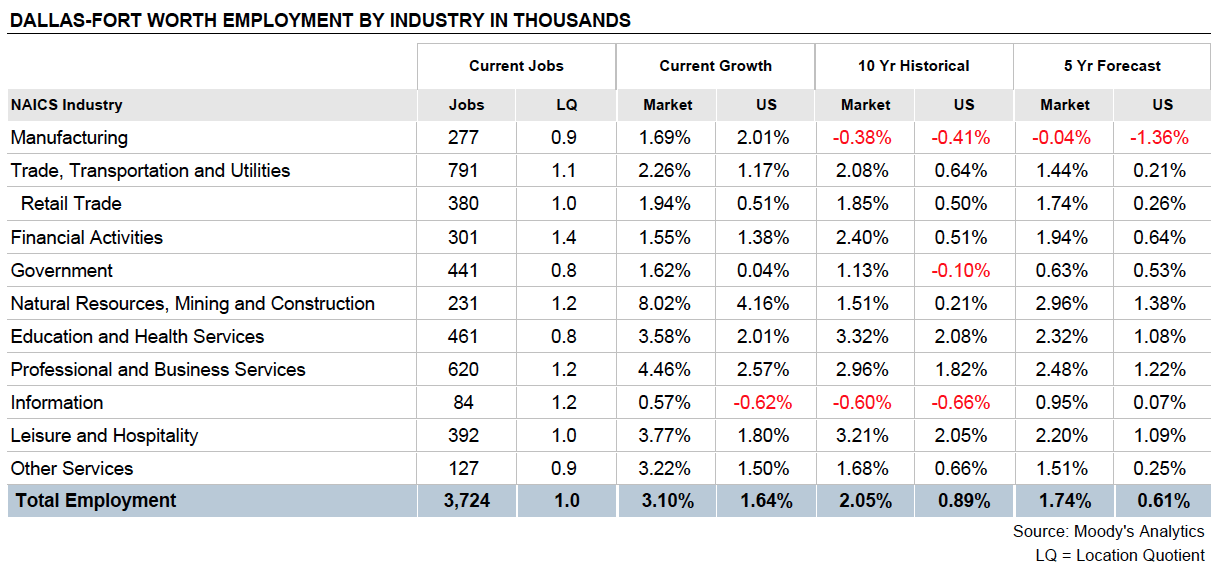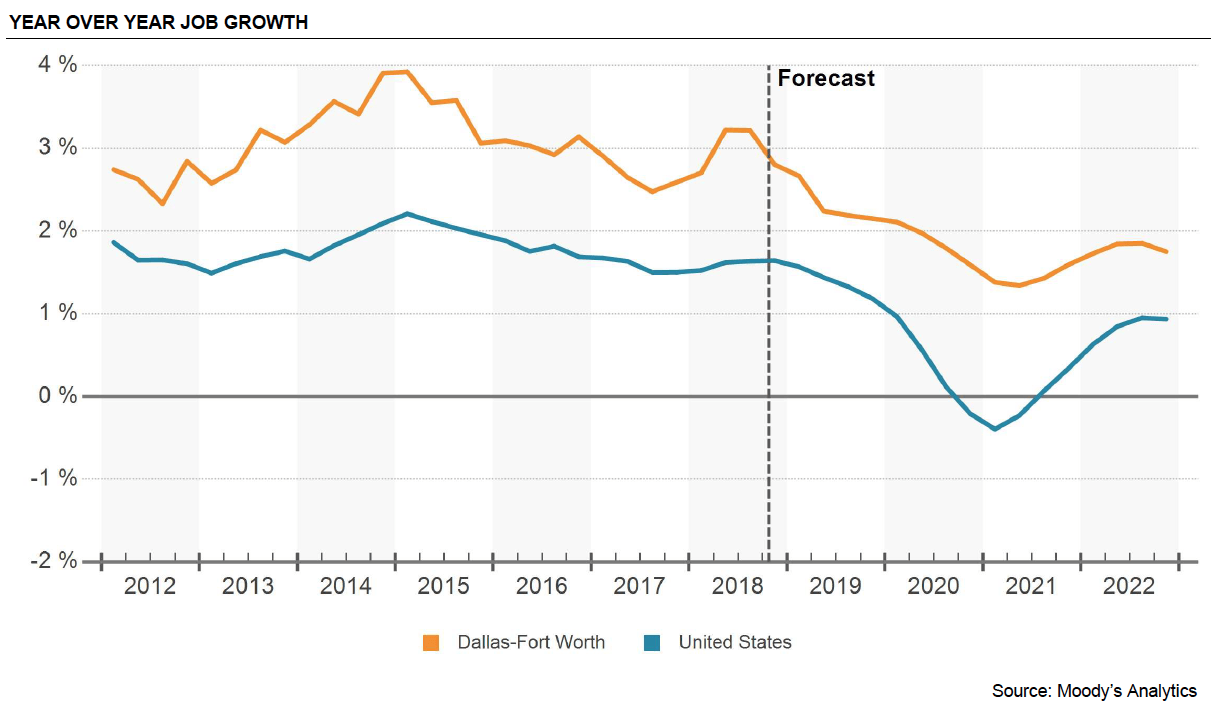 The market and economy here are doing well. If you need additional information regarding any of this information or properties, please contact me. Next year might be the year your company decides to make a change.