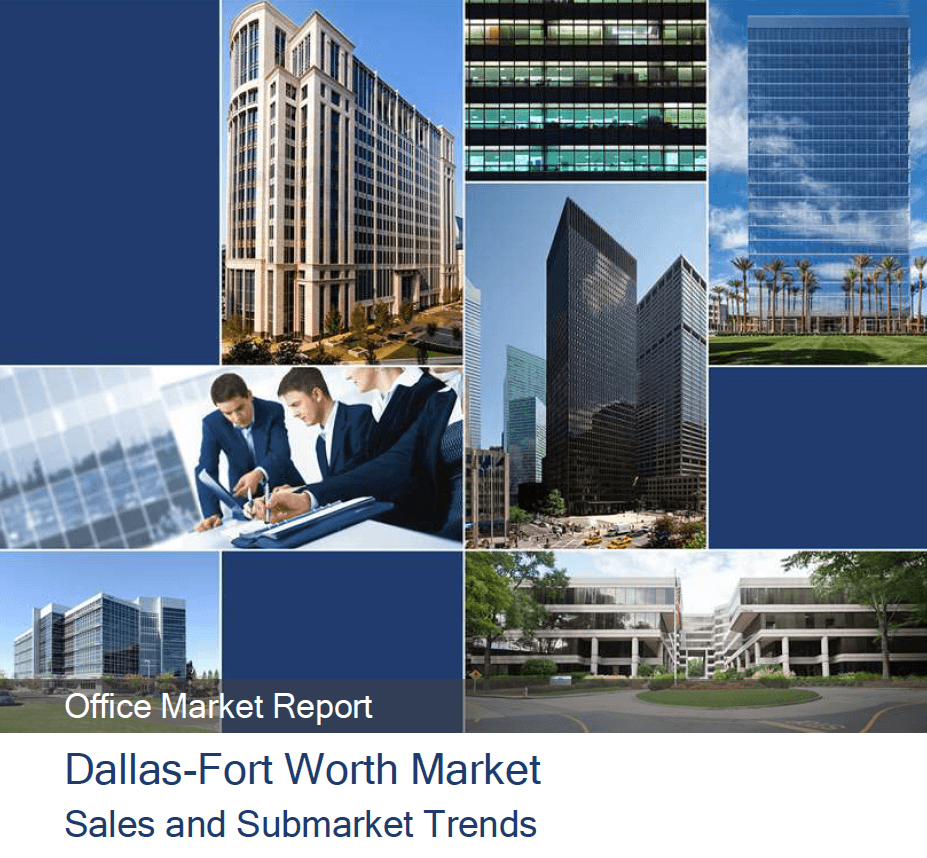 Last Month Sales and Submarkets Report
2018 Overview
CoStar reports that with pricing in core coastal markets such as Boston, New York and San Francisco rising over the past few years, institutional investors have increasingly turned to less expensive secondary markets in search of better yields. This continuing shift of capital has driven up pricing in the metroplex and in some cases set records.
For example, in 2016 Uptown/Turtle Creek, 2000 McKinney traded for $226 million ($504/SF) to Union Investment, a Germany-based fund manager. While the pricing and the 4.8% cap rate on the deal were head-turning by DFW standards, the trade represented a relative bargain compared to the price of similar assets in core office markets. In another major trade in Uptown, Dallas-based Gaedeke Group bought the 369,000-SF 17Seventeen McKinney in September 2016 for approximately $190 million ($517/SF). Those deals still represent the top of the market.
Lately, more major sales have involved older buildings in core urban submarkets or newer, well-leased properties in top tier suburban submarkets with pricing ranging from$300/SF to $400/SF on both types of assets. In Uptown/Turtle Creek, the 1970s-era, 143,000-SF Turtle Creek Tower sold in February 2018 for $46 million
($322/SF) after previously changing hands in late 2014 for $26.6 million ($186/SF). Also in Uptown/Turtle Creek, The Centrum, a two-building, 508,500-SF complex, sold for $174 million ($342/SF), and the 145,600-SF 3131 McKinney traded for $47.75 million ($328/SF) at a 4.5% cap rate after selling in 2014 for $38.8 million ($266/SF). The Centrum and 3131 McKinney both sold in 18Q2, and all 3 assets were around 75% leased at the time of their respective sales.
In terms of recent major suburban sales, Fannie Mae's new 324,100-SF campus at Granite Park sold in September 2018 for $163 million. That pricing, $503/SF, is a record for suburban deals in DFW. The buyer was Union Investment, the same firm that picked up 2000 McKinney in 2016. One of the largest deals in 2017 involved 5851 Legacy Circle, a fully leased 319,000-SF asset in the Upper Tollway/West Plano Submarket that sold in June for $123.3 million ($387/SF) at a 4.62% cap rate. The buyer was Dallas-based TIER REIT, and the deal came with the assumption of $66 million in debt at a 4.24% interest rate. The property was originally a build-to-suit for Encana Oil & Gas, which vacated the entire building after restructuring its business operations in 2014. Statistics follow: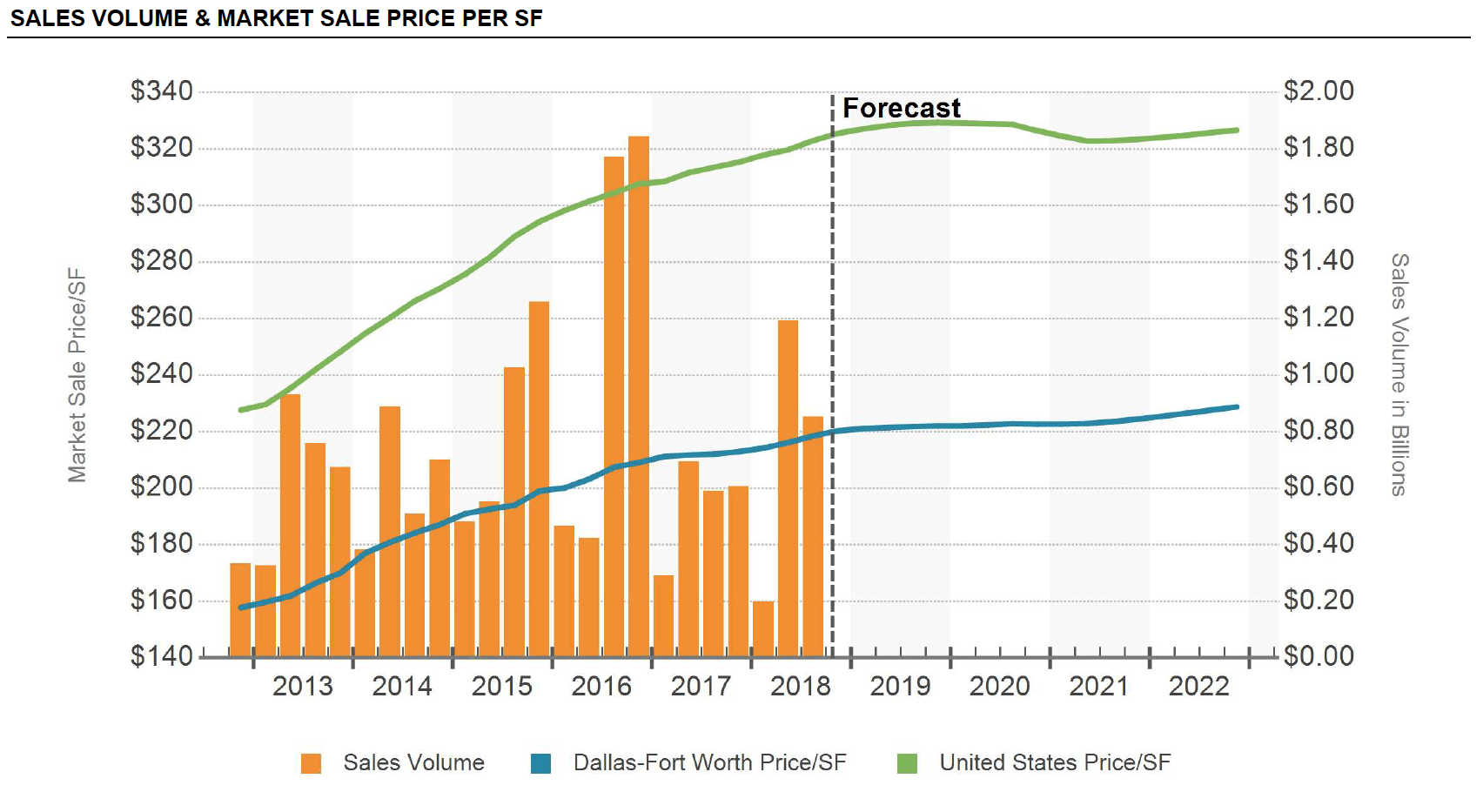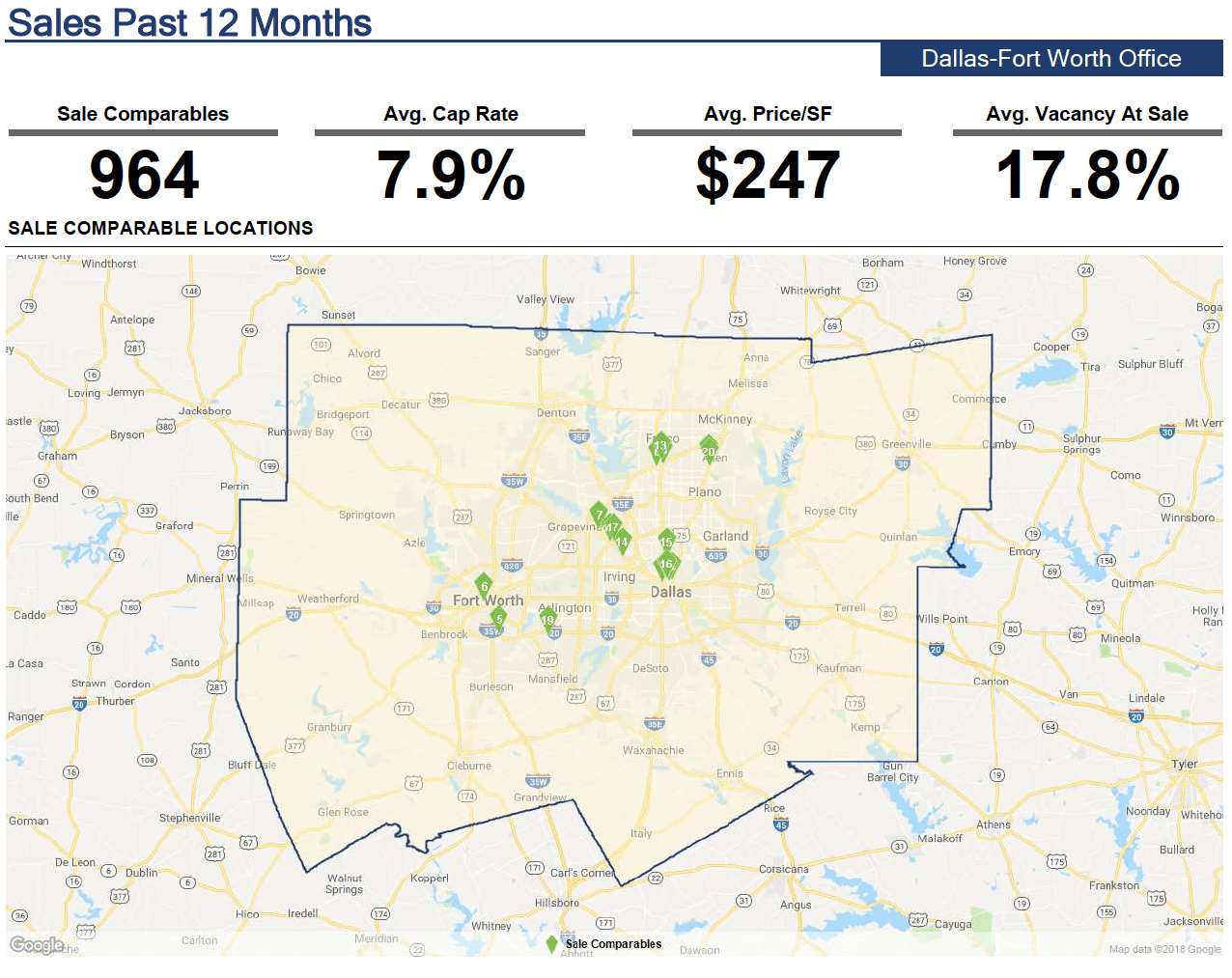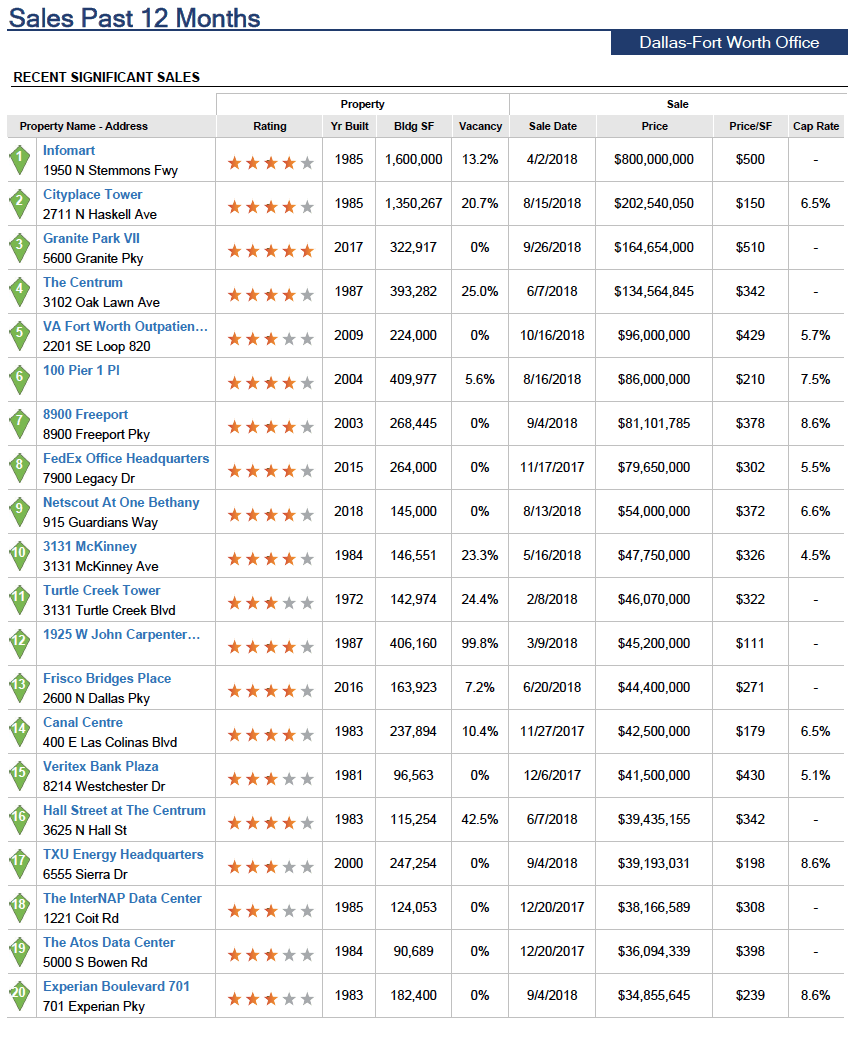 Submarket LBJ Highlight:
With the DFW's overall office market continuing to gain strength over the past two decades, we will see it move into the cycle's next phase of low vacancies through sustained job growth in office sectors and submarkets gained over the past three years.
In terms of transactions, pricing is at all-time highs, but inventory turnover has dropped off compared to earlier this cycle. However, as long as the U.S. economy maintains its current pace of growth, DFW's office market should remain a prime beneficiary. Office-using job growth and demand are expected to outperform the national averages over the next few years.
We have good news for any company seeking prime real estate in 1 of our 45 submarkets in DFW. A new 4+ year sublease recently became available within the LBJ submarket system. The full 11th floor (or a partial) of Three Lincoln Centre is now open for subleasing.  The landlord wants to close right away offering $1.2M in savings.
The property has 32,423/SF of space with Knoll furniture available in an efficient layout. Many amenities come with this space including conference facilities, high-tech wiring, global executive suites, fitness, food services, and the Lincoln Hilton Hotel with 500 guest rooms.
Have your broker contact me or call me directly for more information at 972-386-9181.
Click here for the Lincoln Centre, 11th Floor Flyer.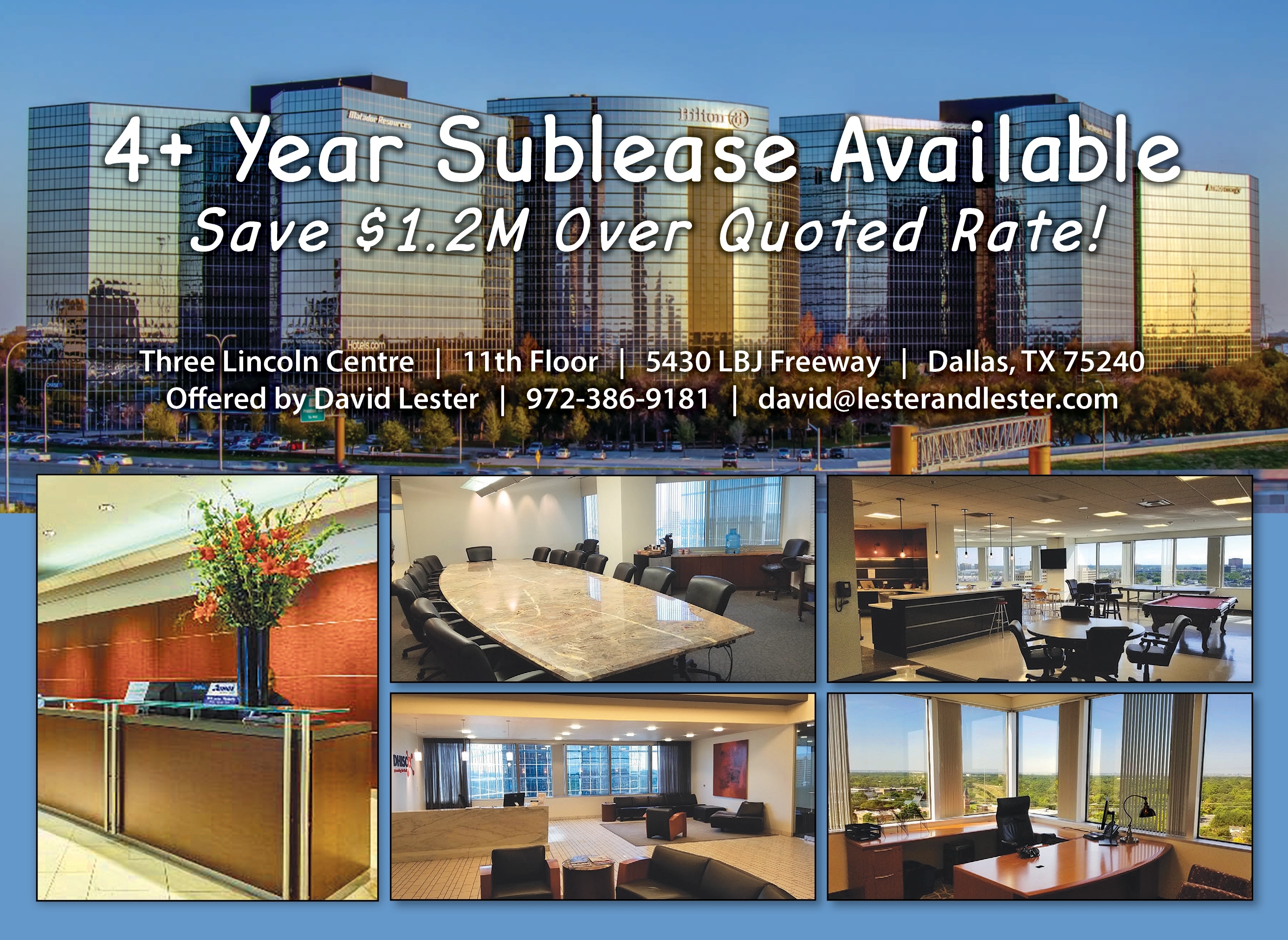 More Submarket Details:




Additional Trends: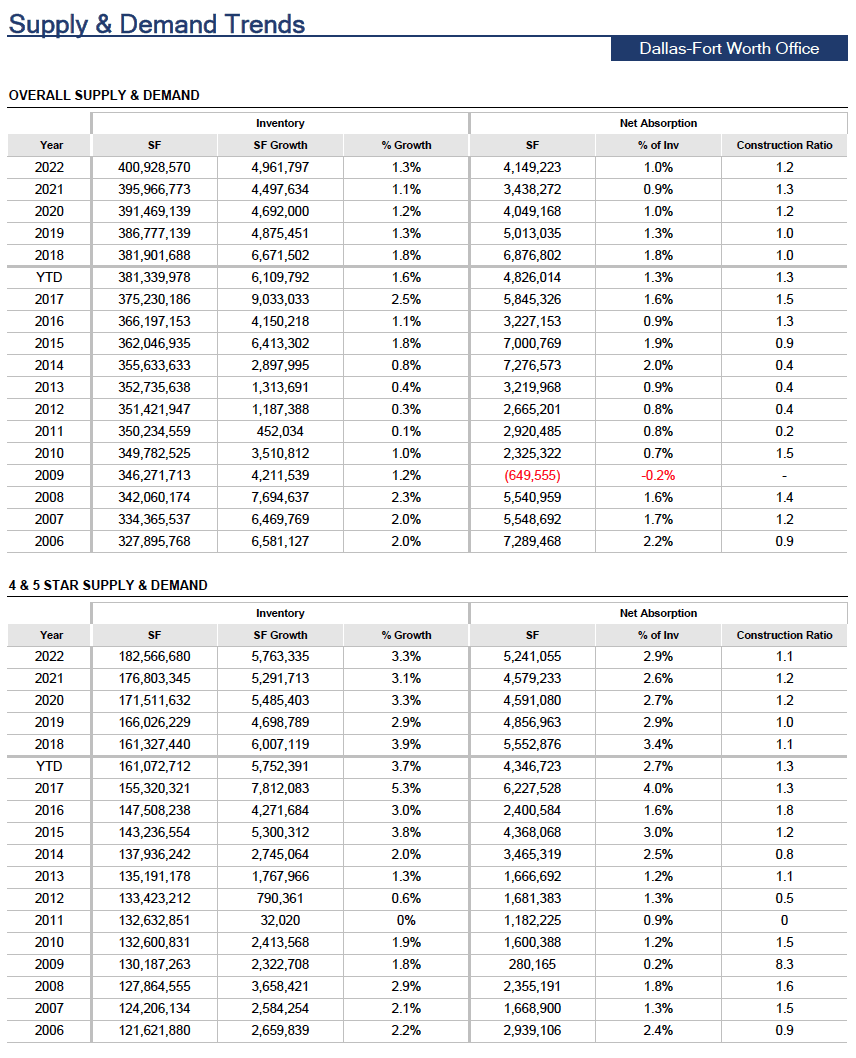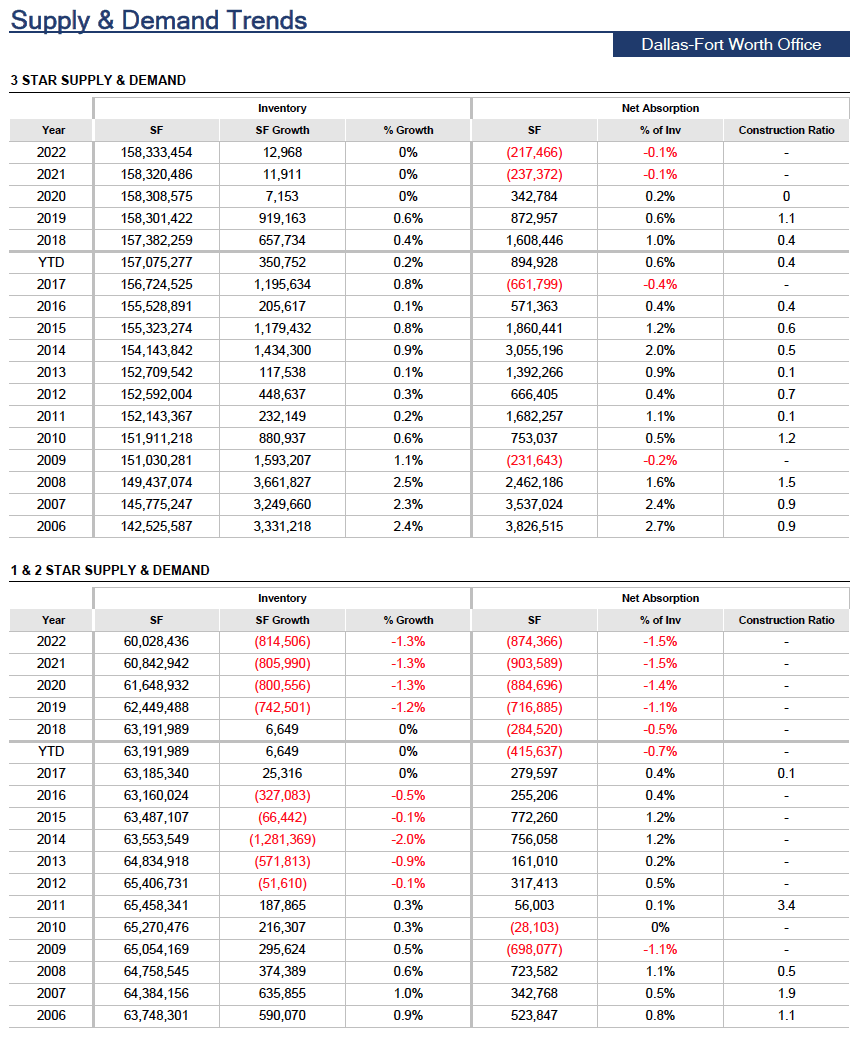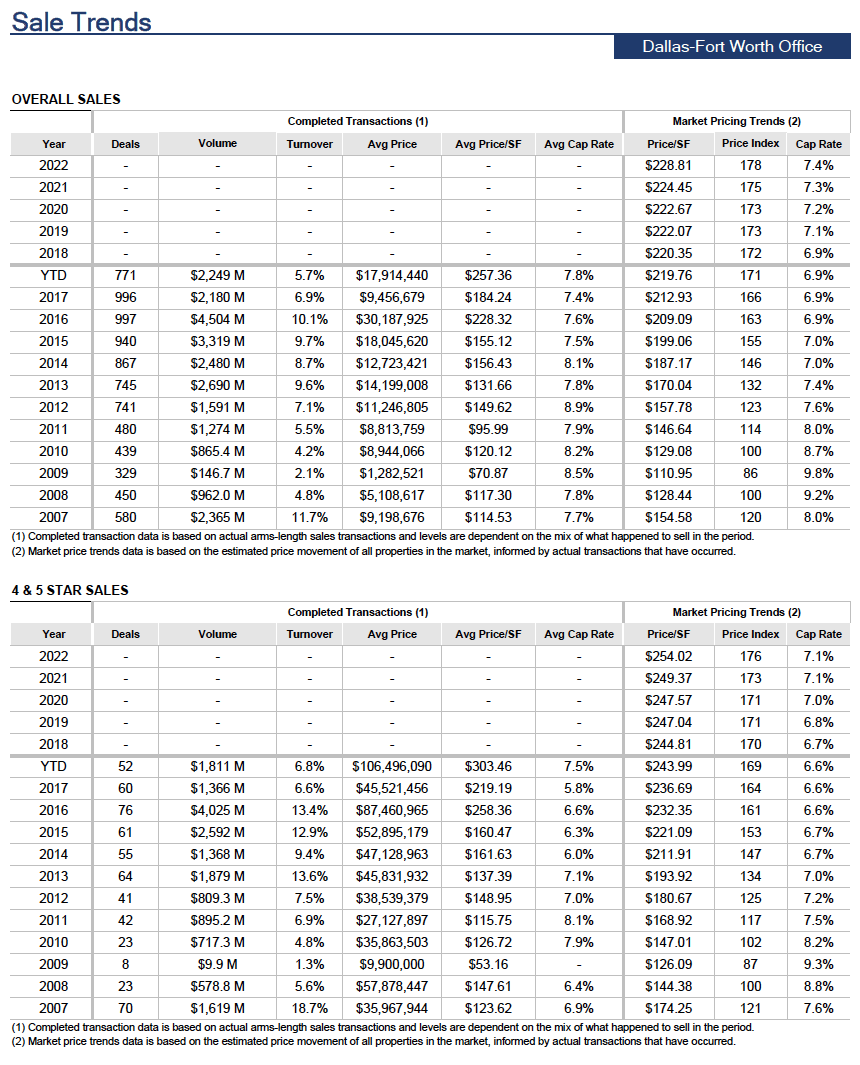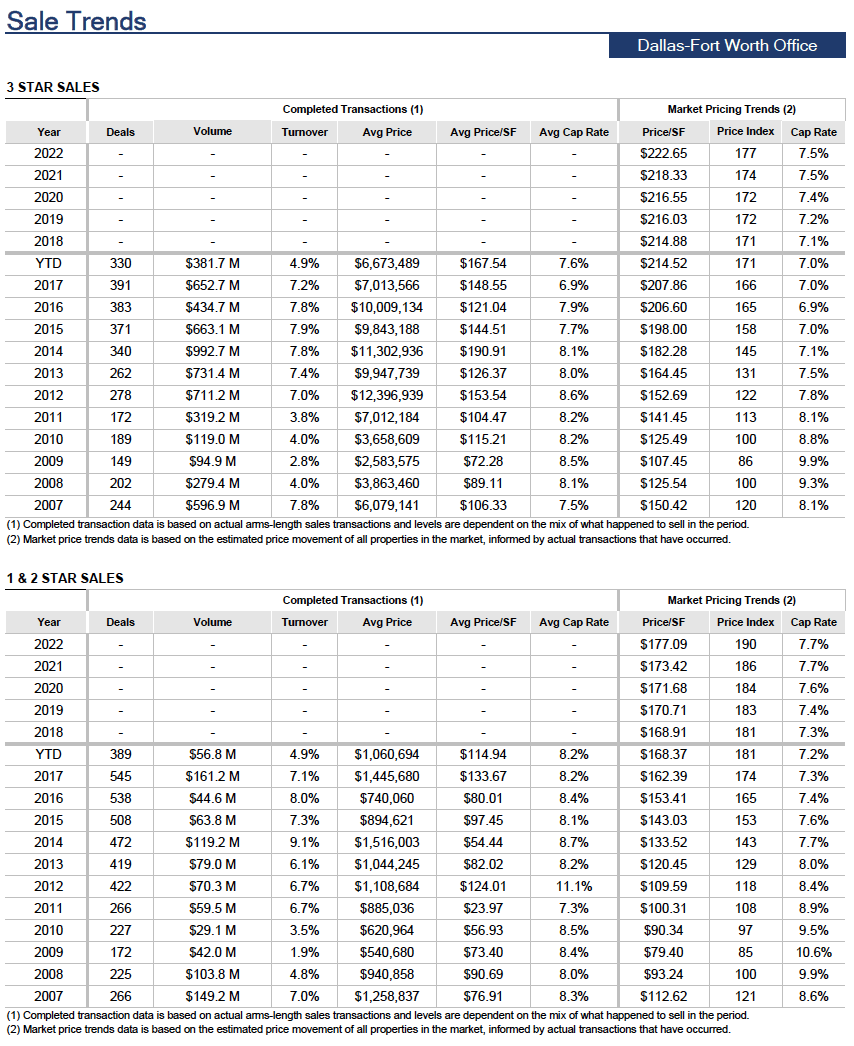 If you want additional information regarding any of this information or properties, please contact me. Next year might be the year your company decides to make a change.