WeWork leads the co-working provider trend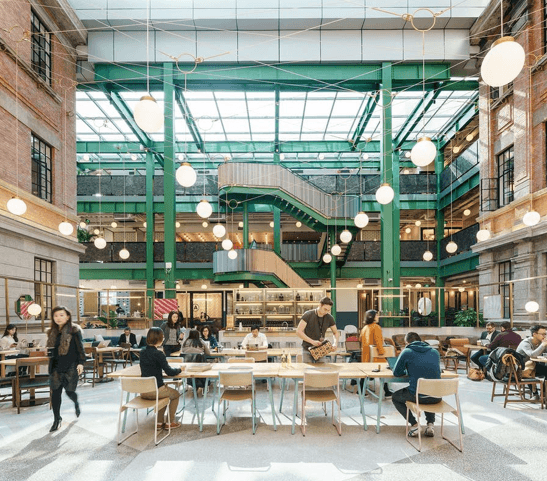 Have you heard about the WeWork company? Founded in 2010, the co-working space provider set out to create a world where people work to make a life, not just a living. To do that, they created spaces where individuals can work and share in a larger community. They define success by personal fulfillment and not just the bottom line. This space-provider company has been expanding rapidly by providing a co-workspace community with high-end amenities, custom workplace designs, and none of the backend hassles needed to support most business operations.
Since their startup, WeWork has established workspaces in 30 countries with currently 31 U.S. metropolitan areas, including 6 WeWork buildings in Dallas-Fort Worth. To join, it offers flexible membership options from a HQ space with private floors to shared or private office spaces. According to its website, they also design, build and operate workspace for Fortune 500 companies at the enterprise level such as Microsoft, Adidas, and Salesforce.
Financials
Could this be a trend too good to be true or is it here to stay? Losses for WeWork's European business more than tripled in 2017 compared to just one year earlier, per figures released by the company, with only one of its London locations being profitable. According to the Financial Times, the rising loss resulted from WeWork's rapid expansion: staffing costs tripled, occupancy and infrastructure cost rose 60%, and its rent bill rose just about as much.
The Wall Street Journal's recent op-ed piece, The Company Implosion Pageant, examined which billion+ companies will fail and how hard. The article outlines that potentially overvalued businesses like WeWork have minimal sales, unproven business models and huge losses. WSJ describes this model as one that works great in up cycles but is still unproven, especially in downturns. WeWork comes to mind for this type of company in the flexible workspace industry as although it has entered into some revenue-sharing leases in some locations, it has not in all or nearly enough, contributing to the company's $723M loss in the first half of this year. WeWork reportedly owes $18B in leases, of which ~$5B is due in the next 5 years. What happens when startups (the subleasees) disappear, and WeWork gets stuck with the empty space?
Survey says
The National Real Estate Investor conducted a survey of readers in September to give thoughts on how sustainable WeWork's long-term business model really is. The responses further substantiated WSJ's opinions as well. However, NREI readers believe the co-working trend will expand, supporting the long-term viability of the industry leader. Many also warned that co-working space providers will have significant challenges in a possible downturn such as WSJ suggested; thus, delaying profitability. WeWork has expanded so rapidly in services and locations that some financial advisors question its credit-worthiness.
NREI asked its readers to forecast the co-working space demand in the U.S. over 2019 and specifically WeWork's positioning in the market. The majority of survey respondents expect demand for co-working space in the U.S. will continue to rise. These same respondents were slightly positive on the WeWork core business model and rated the company an average of 6.18/10. But many respondents criticized WeWork's model for signing the long-term leases yet offering short-term subleases to its members, again indicating the company needs strong financials if any drop in demands for office space occur.
The biggest concern from NREI readers was WeWork's fast pace of opening new locations. The majority of respondents indicated they think the company is expanding too quickly. Not only is the company expanding too fast, but they also are looking to diversify to include real estate services. About half of the respondents said the company was drifting too far away from its core business.
Lastly, readers admitted to not having validated opinions but believe the company may now be too big to fail unless there is a downturn in the economy. One respondent noted that WeWork executives "think they are creating relationships with smaller users that may turn into larger users needing their own space. Been there, done that."
See detailed survey responses on NREI's website to form your own opinion on this company and the co-working industry.