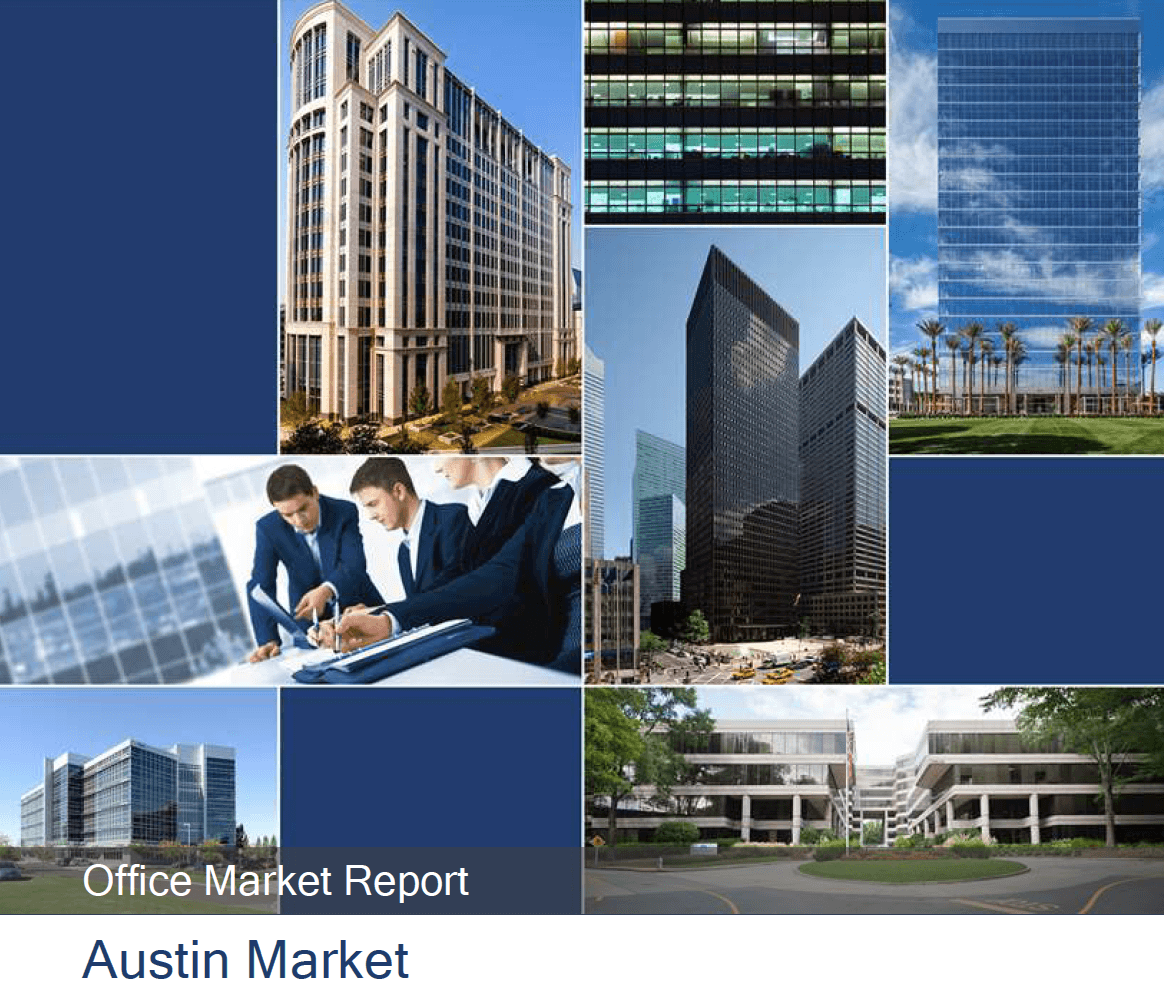 Rounding out our series of reports on the office markets is the Austin area. This market has been one of the healthiest in the country in this cycle. Job growth, as well as absorption, has been strong recently, though developers are well aware of Austin's terrific story with large companies needing big spaces. More than two million square feet have delivered over the past year ending in early June, and more than double that square footage is currently underway. While companies like Facebook and Indeed have pre-committed to their spaces, there are plenty of speculative projects scattered throughout the metro. As a result, rent growth has slowed, though it has grown by more than 7.5% in three different years since 2012; as a result, when leases roll over, NOIs should continue to increase. This explains the strong investor interest in the office market; record-level pricing has been registered over the past few years, and continued portfolio acquisitions bolster sales volume. But tech is ever the wild card here—ifthe nation enters a tech-driven recession, the office market would feel the burn as businesses across the country cut IT spending.
Per CoStar, the first rewrite of the Austin land development code since the mid-'80s, known as CodeNext, released its third version in mid-February, which it appears it may be dead in the water. The city's mayor called for the process to cease at the beginning of August after the process continued to drag. Ultimately, it cost taxpayers an estimated $8 million in fees and was mired in controversy. CodeNext would have been the first rewrite of the code since the mid-1980s; now the city manager is leading a new process. While development certainly hasn't been slow by any stretch of the imagination this cycle, simplifying the code may allow for even more development, which would get more funding for the density bonus program, thus helping create more affordable housing throughout the city.
Leasing
Although a lot of the Austin office market's growth can be attributed to just a handful of tenants – Google, Indeed, Apple, Amazon, Facebook, and Oracle – its economy continues to be one of the strongest in the nation. These few but large companies have seen a threefold increase in their occupied square footage, from just under 900,000 SF in 2011 to more than three million square feet today. Indeed also recently announced that it too would lease an additional 300,000 SF, on top of the 300,000 SF recently leased at the Domain Tower. Facebook too is rumored to be taking the entirety of Domain 12, which potentially could result in space givebacks elsewhere in Austin.
Office-using employment growth has been impressive and is expected to grow another 14% through 2022 in Austin, which should keep demand strong for the foreseeable future. Leasing velocity remains steady as existing companies expand or relocate.
Developers haven't been shy about bringing product to market, and with the success of the recently delivered speculative properties, more will follow, likely stymieing any further significant vacancy recovery.
Rent
A strong vacancy recovery has allowed for phenomenal rent growth for the past several years. Rent growth has topped 7.5% three straight years, but has since slowed to about 4.5% over this past year. While more than 4% rent growth is hard to complain about, tenants have routinely faced sticker shock on renewal, with many looking to lower-cost submarkets beyond the traditional nodes of Downtown, Northwest and Southwest Austin, instead looking to Austin's east side.
Existing landlords have been especially lucky because losses during the downturn were minimal. In fact, nominal rent levels surpassed the last cycle's high in early 2013, a rarity among office markets. But this good news may eventually come to a somber end, as Texas metros rarely see outsized rent growth for long thanks to a propensity for development. With rents above their previous peak and occupancy growth expected to slow, annual growth will likely fail to live up to the rent growth experienced over the past few years.
As in most markets across the country, Austin's 4 & 5 Star office product has enjoyed the strongest recovery. Tenants have been attracted to this segment of the market, especially early in the recovery, when rents were still relatively affordable. But a dearth of new supply over the past few years has caused a rapid tightening of fundamentals, and landlords have responded by pushing rents in 4 & 5 Star assets. Landlords of lesser-quality assets have also been raising rents, but much more slowly, causing a record gap among the segments. However, a rush of supply hitting the market recently and predicted for the near term should help bridge this gap.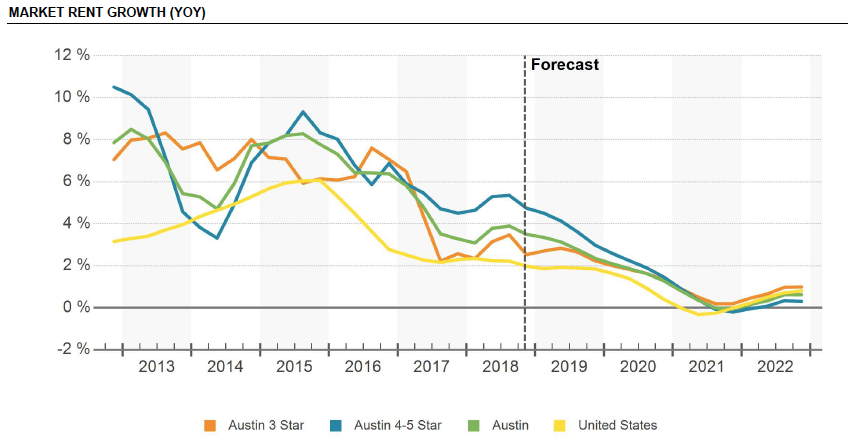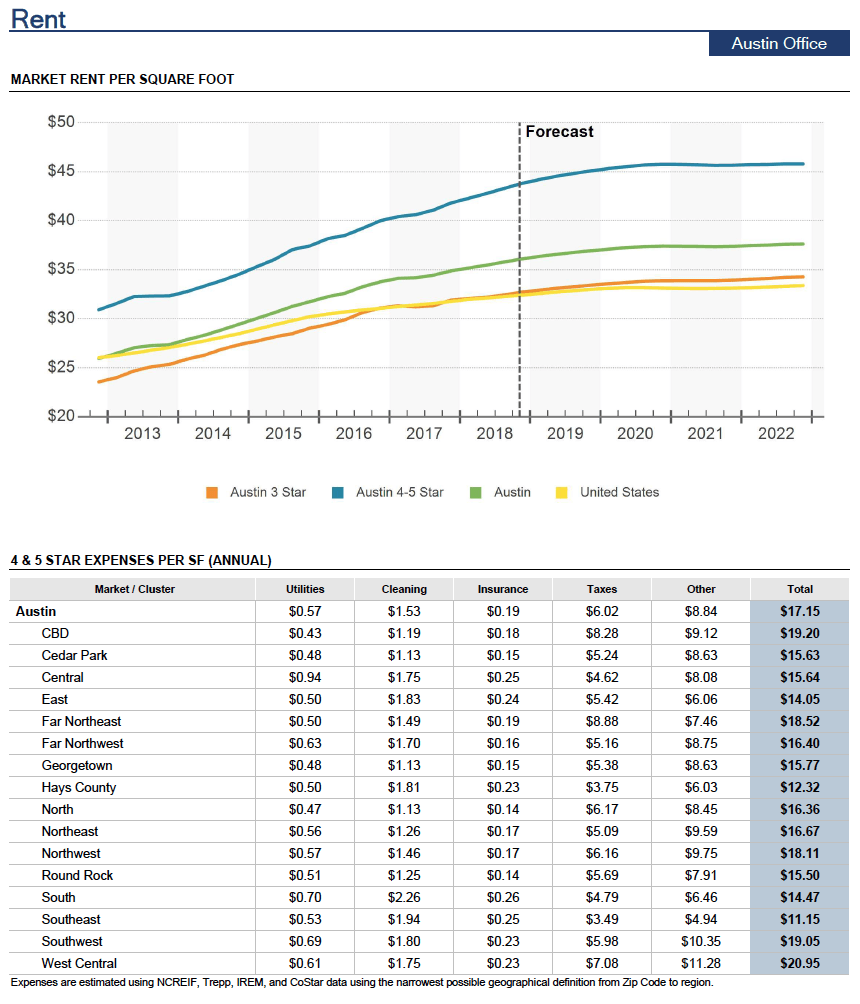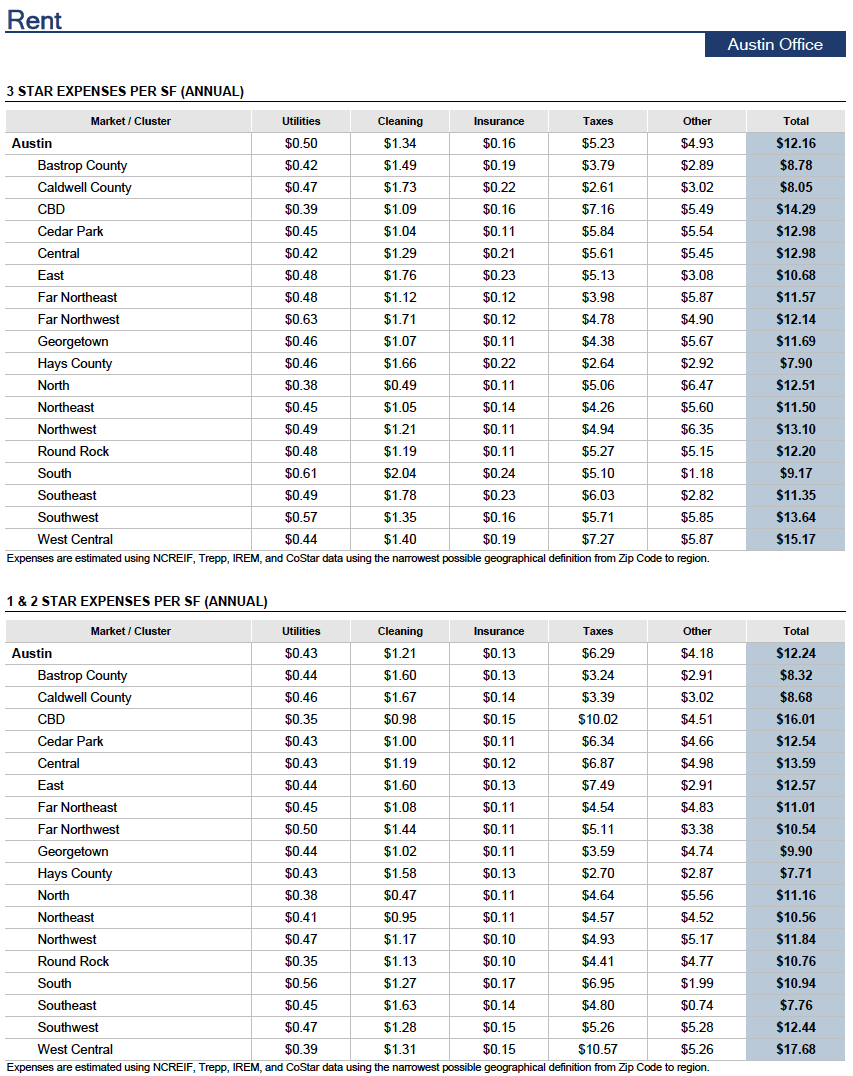 Construction
Developers have been busy across Austin, but particularly in the CBD, or Downtown area. It is clear why: Over the last three years, absorption has doubled its historical average pace, rents have averaged growth of more than 6% per year, and until 14Q4, no significant supply had been added since the Frost Bank Tower completed in 2003. There are also minimal availabilities of large blocks of space in premier areas like Downtown and the Domain, which has caused a number of tenants to commit to space early. Other tenants like Main Street Hub (now GoDaddy) and Oracle have looked beyond traditional office nodes like East Austin and Southeast Austin, opting for cheaper locations, but still close enough to urban nodes. In a tight labor market such as Austin, where unemployment has been hovering around 3% for more than a year, companies are leasing well-located, if expensive properties to best recruit and retain talent.
Low initial preleasing at the new projects shows just how bullish developers are on Austin's outlook, and the success of those projects (most of which leased well during construction) will likely encourage others to follow suit. See the following charts for current details with history showing Endeavor Real Estate Group's 195,000 SF IBC Bank Plaza on Fifth Street and Cousins Properties' 370,000 SF Colorado Tower at Third and Colorado streets delivered in 2015 with a collective vacancy of just 15% and more recently, 5th and Colorado delivered at 94% leased. Google's new building, 500 W 2nd, which delivered in June of 2017 is similarly 95% leased, and Third + Shoal, Cielo and TIER Reit's new property landed Facebook to anchor the building, leasing more than 200,000 SF in the property. There are a handful of projects proposed along Colorado Street downtown, which certainly bears watching over the next few months to see how much leasing those projects get.
Sales
Historically, Austin has been a tertiary metro, where investors often found themselves forced to hold onto assets longer than they would have liked. But that has changed this cycle. Every year since 2012, with the exception of 2014, sales volume has outpaced the prerecession peak. Austin has now positioned itself as a secondary market, but it remains small and lacks the institutional depth of a Dallas or Houston, making it a somewhat riskier place to invest if liquidity is a concern.
Pricing continues to pick up but still trails the prerecession high on the aggregate. The rapid increase in rents and the ascension of the market to secondary status in this cycle help to explain the price differential and offers some insight into the value gains that can be had when investing in a growing market like Austin.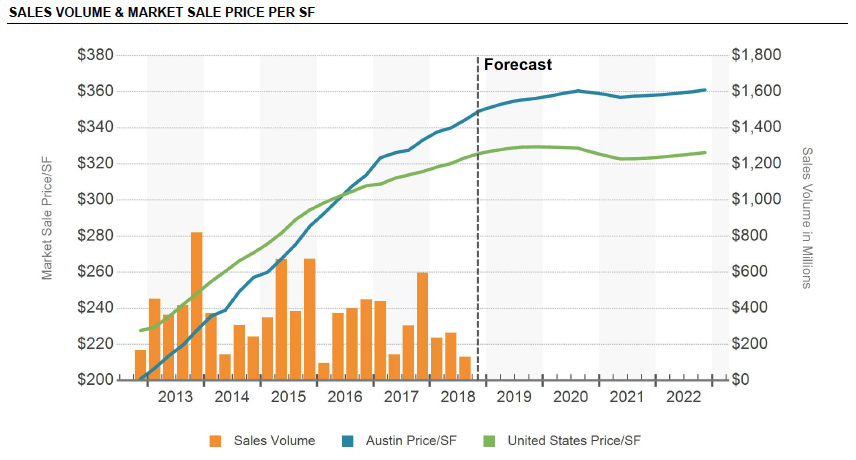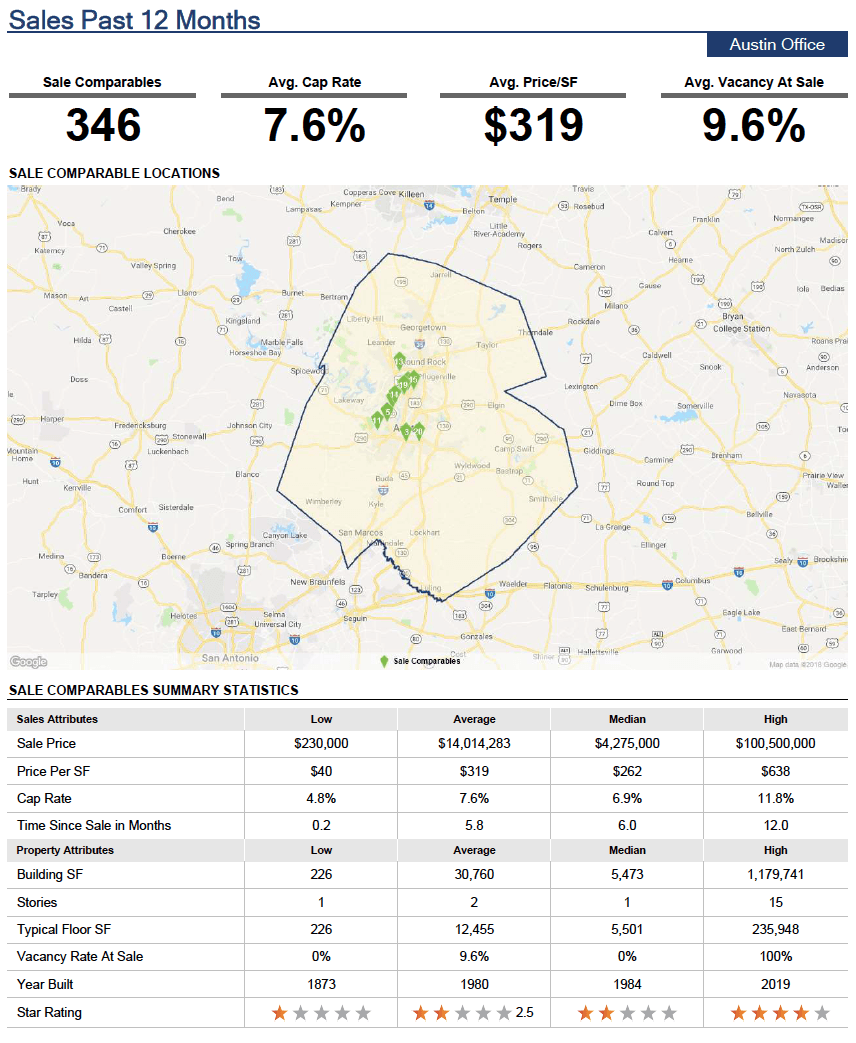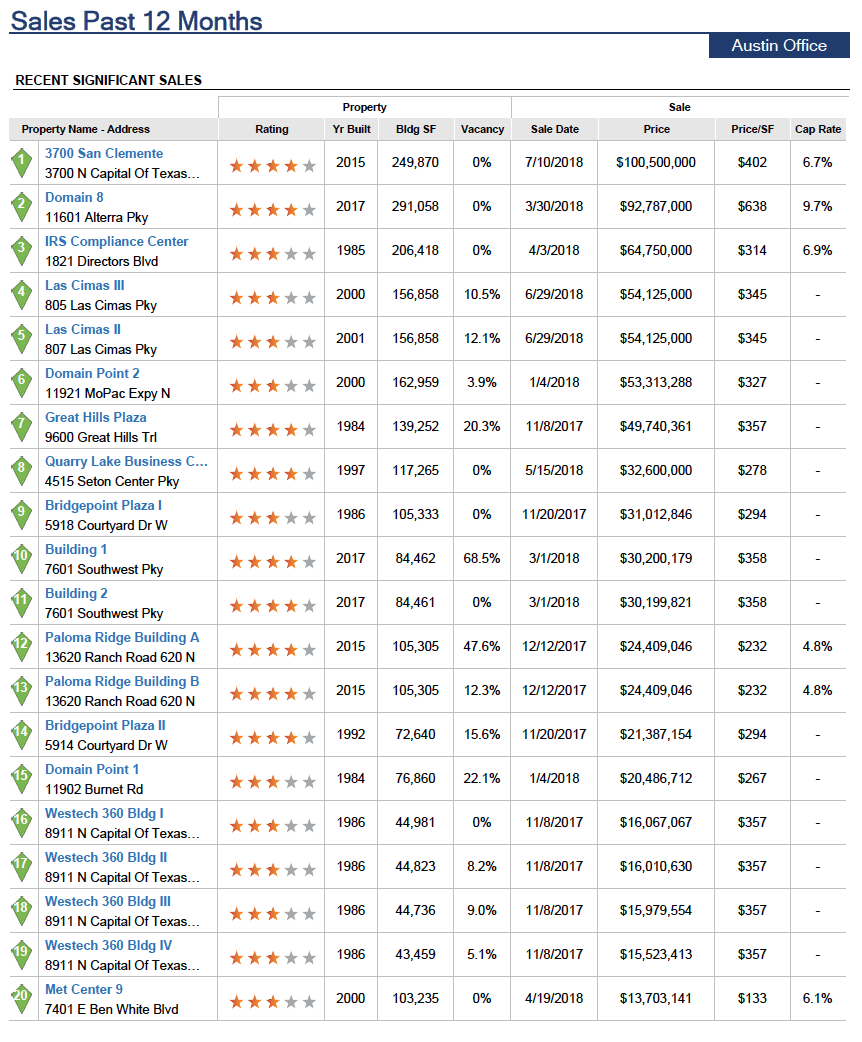 Economy
Austin's recent growth has been somewhat of a roller coaster. Between 2013-2015, Austin's job growth averaged 4.5% annually, one of the strongest marks in the country, and greatly contributed to Austin being more than 30% above prerecession job levels. But between 2016-2017, job growth slowed to 3.5% – still incredibly strong, but it dipped down to 2.5% in September of 2017, which is well shy of the 2013-15 mark. However, February's job growth showed the strongest year-over-year gain since July of 2016 at nearly 4%, though it's slowed slightly to about 3.2% as of August. While it's still slower than earlier in the cycle, job growth greater than 3% is well above U.S. and ahead of most major markets in the country.
The job market might remain slow moving forward as well, for a few reasons. First, the job market is incredibly tight in Austin (as it is across Texas), with the unemployment rate hovering around 3%, the lowest it's been in a decade. This is effectively full employment, making it difficult and expensive for firms to compete for talent here. In addition, the public sector has provided a slight drag on growth, which is understandable given where energy prices have been recently (there's a lag in terms of the impact on Texas state employment) and the diminishing taxable income from energy producers statewide, as well as the announced hiring freeze for the state government. That job growth may get a boost from the recently announced new Futures Command for the U.S. Army, however. The new location, which has yet to be determined within Austin, will host at least 500 new employees when it opens. Austin's well-educated employment base should continue to grow, but with an already tight labor market, growth may be capped in the near term.
Job growth will likely come from continued expansion of the metro's already strong tech market. Tech companies are highly concentrated in Austin, both with established companies like Dell, IBM, Apple, Google, and large semiconductor manufacturers such as National Instruments, AMD, and Samsung though there was some weakness in 2016 thanks to Qualcomm's acquisition of NXP Semiconductors, but Samsung announced a $1 billion expansion late last year and manufacturing is already back to 4% growth over the past year. The metro is home to a burgeoning startup scene as well. Many firms are located in the northwest and southwest suburbs, but the CBD has been attracting its fair share of tech as well. Specifically, startups have clustered on or around West Sixth Street. It is important to remember that these companies' performance can be volatile, though the Kauffman Index of Growth Entrepreneurship ranked Austin number two for growing startups. This has all helped to solidify Austin as a tech hub, which has spurred additional growth in non-tech companies setting up IT operations in Austin. One of the latest examples is Merck, which is planning to create 600 IT-related jobs in Austin likely near the new Dell Medical School. Walmart too has opened a tech hub in Austin, its first in the U.S., in a former Alamo Drafthouse theater. Although the metro's economy has diversified, Austin's dependence on the tech industry as a major growth engine could come back to haunt it during any economic crisis.
It's hard to ignore the national story of Amazon's acquisition of Whole Foods, one of Austin's largest employers. As it stands right now, John Mackey, Whole Foods' CEO, will retain his title, continuing to operate it as he has since the grocery giant opened its doors in 1980. It's likely that change is forthcoming, however, but perhaps not in the way that most think. It's possible that Amazon will seek to recreate the Amazon Go (the checkout-less grocery store) experience across Whole Foods locations in order to reinvigorate the brand. CEO Jeff Bezos has also been clear that Amazon wants to deliver people's groceries too, though very few grocery delivery services have shown to generate any kind of significant profit. The most plausible scenario is that Amazon wanted Whole Foods' real estate, potentially co-opting its stores as additional last-mile distribution space. Whole Foods stores have an average 62,000 households within a three-mile radius, compared to a 34,000 figure for average U.S. neighborhood centers, and it's likely that many who live near Whole Foods also shop regularly on Amazon and would see Prime Now (Amazon's immediate delivery service for household goods) as a significant added benefit.
Government remains Austin's largest employment sector, comprising nearly a fifth of the workforce. The state and local government have historically provided employment stability to a metro so reliant on the tech sector. While local government payrolls took a hit during the recession, those losses have abated and forecast growth should be well above the national average, commensurate with population growth. The education and health services sector also provides stability to the metro's economy. While this sector makes up a small portion of the metro's overall employment (12%), it is ascending. The University of Texas at Austin (UT) is one of the largest universities in the country and is also the metro's largest employer (16,000 employees). Employment in this sector should continue to have some of the best growth in Austin and will be vital to serving one of the fastest-growing metros in the nation.
Low business costs (especially compared with the Northeast and West Coast), pro-business policies, a deep bench of tech talent, and a high quality of life are fueling a steady stream of corporate relocations and expansions in Austin. Examples of California-based firms expanding in Austin include Cupertino-based Apple, which will double its Austin presence over the next decade, adding 3,600 jobs and one million SF to its campus in the Northwest Submarket. Other firms expanding in Austin include Indeed (300 jobs in 2015, up to 1,000 long term), Charles Schwab (820–1,000 jobs in 2016), Samsung Semiconductors, which announced a $1 billion investment in their Austin facility which could lead to 500 more jobs, and Oracle (200 jobs in 2017, and likely more when its new 500,000 SF office opens in Southeast Austin). Google will also be moving into 200,000 SF in the Green Water Treatment project in early 2017 and recently announced that it would be bringing about 400 new jobs to downtown, and Facebook recently announced it would be expanding its downtown operations into 3rd + Shoal by more than 200,000 SF. In most cases those firms that are based in California are receiving substantial economic incentives from the state, Travis County, and the city of Austin.
Growth in Austin should remain relatively strong thanks to its high percentage of young adults. Thanks largely to UT, roughly 25% of the metro's population is between 20 and 34 years old. A large portion of students, attracted to the metro's culture, warm climate, and optimistic employment prospects, choose to stay here after graduation. This young, highly educated workforce has attracted employers and delivered high-paying jobs. As a result, the median household income in Austin is above the U.S. average. Over the forecast, this cohort is projected to grow by 14% cumulatively, among the fastest expansions in the U.S. and nearly 850 basis points above the National Index.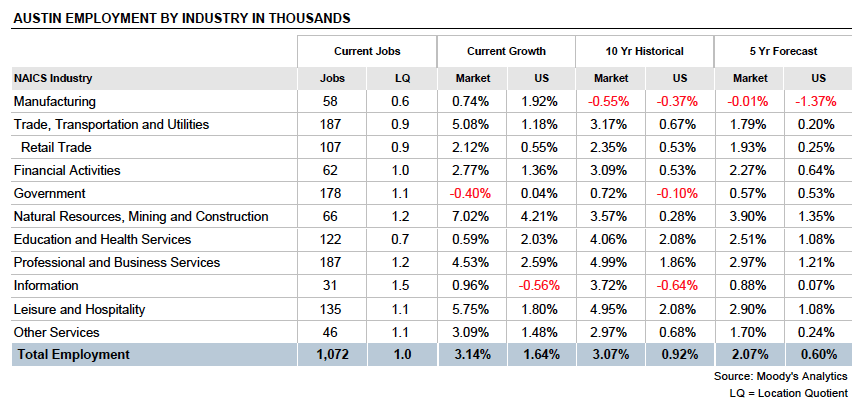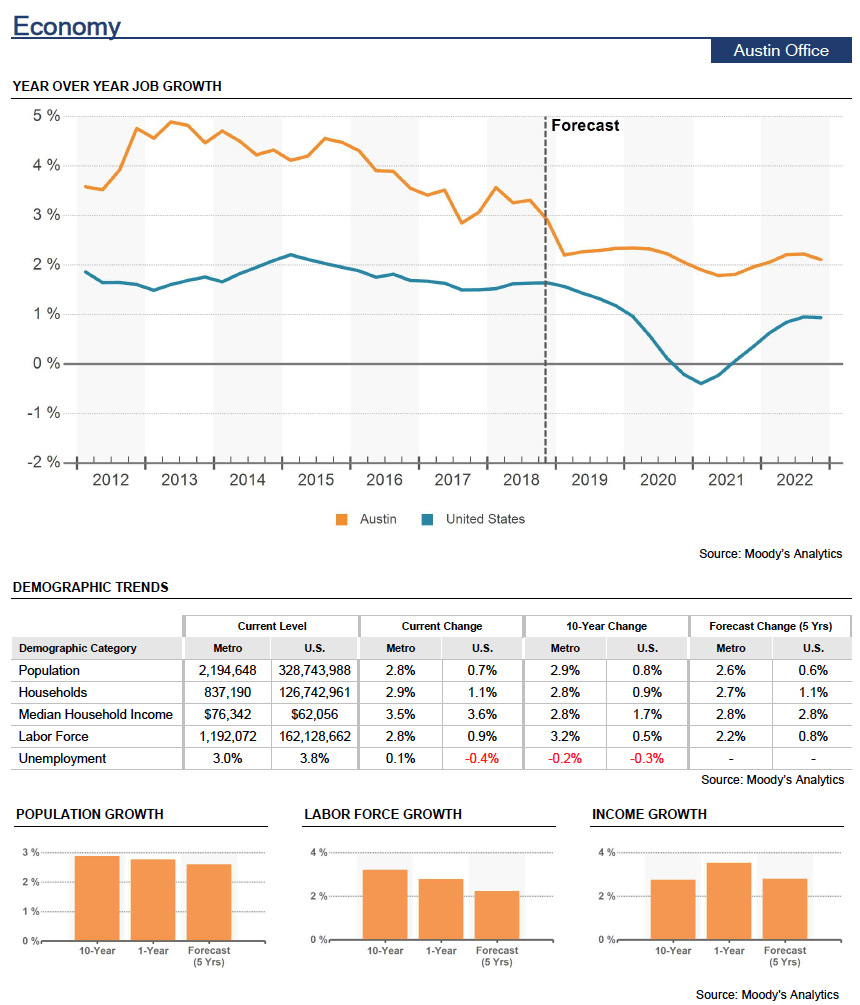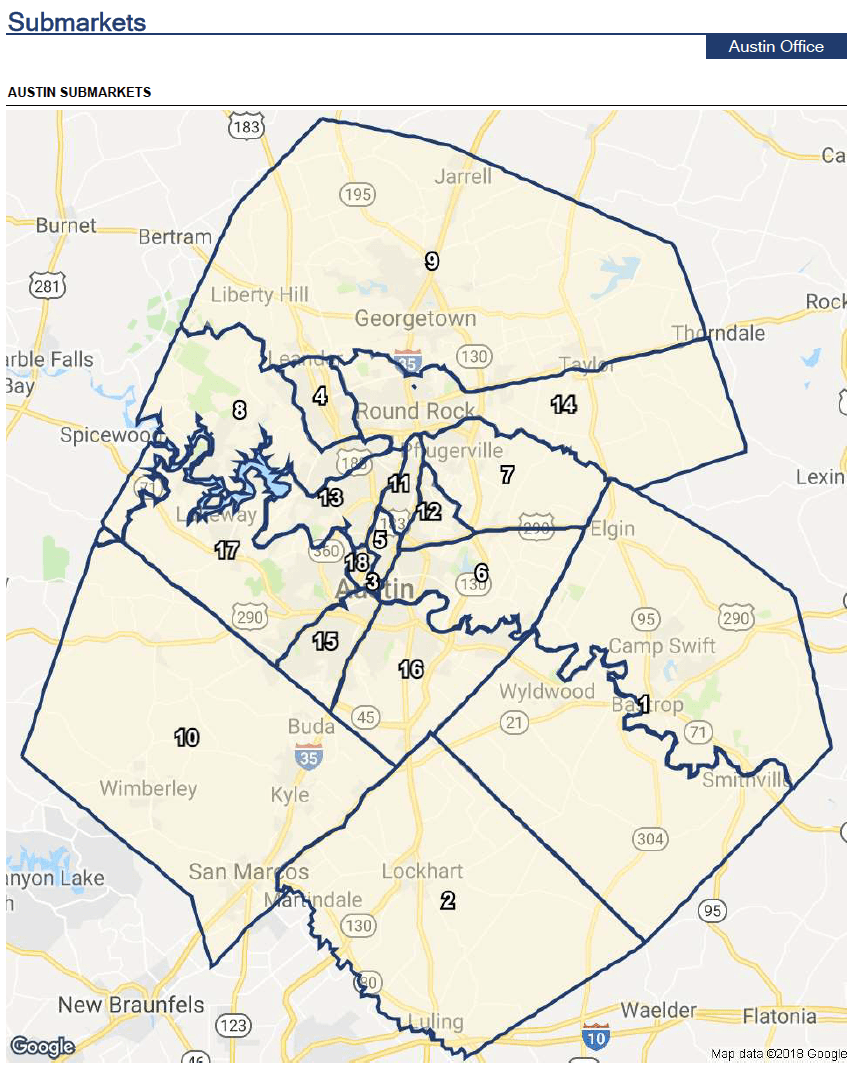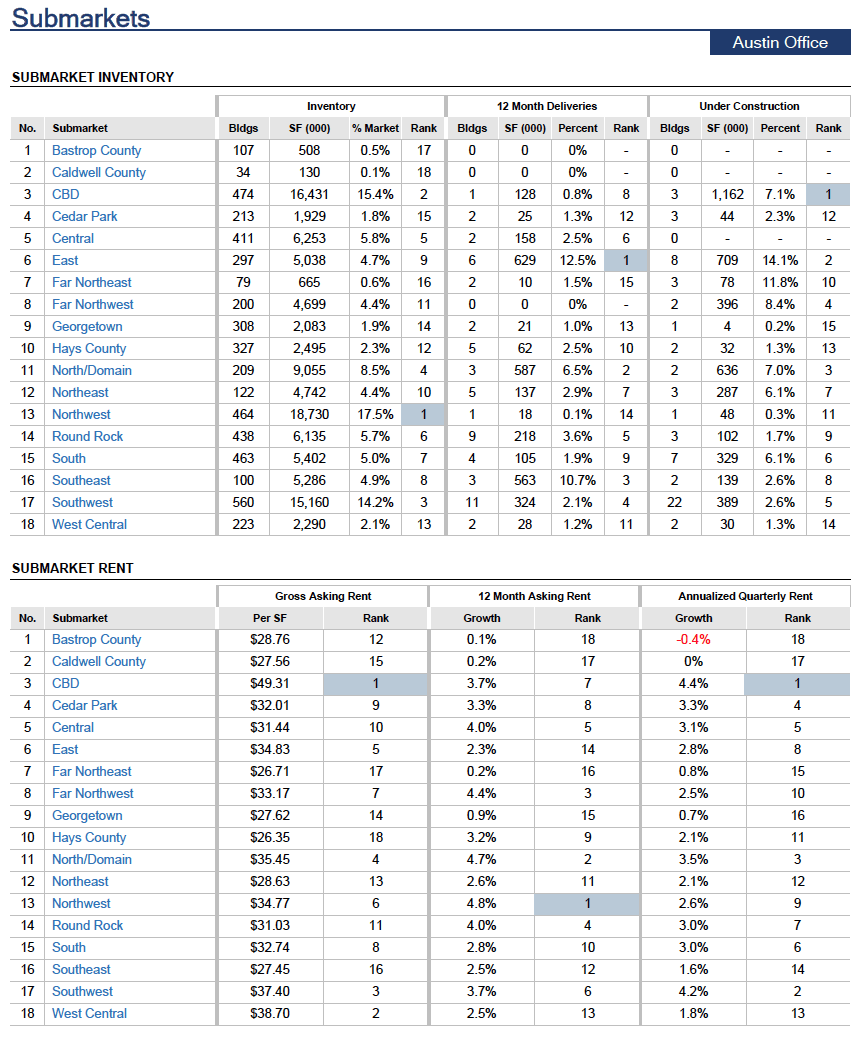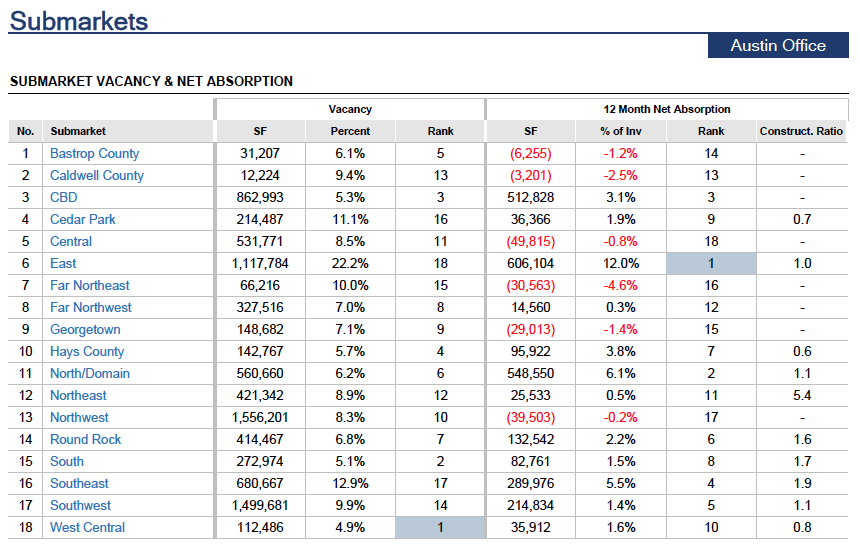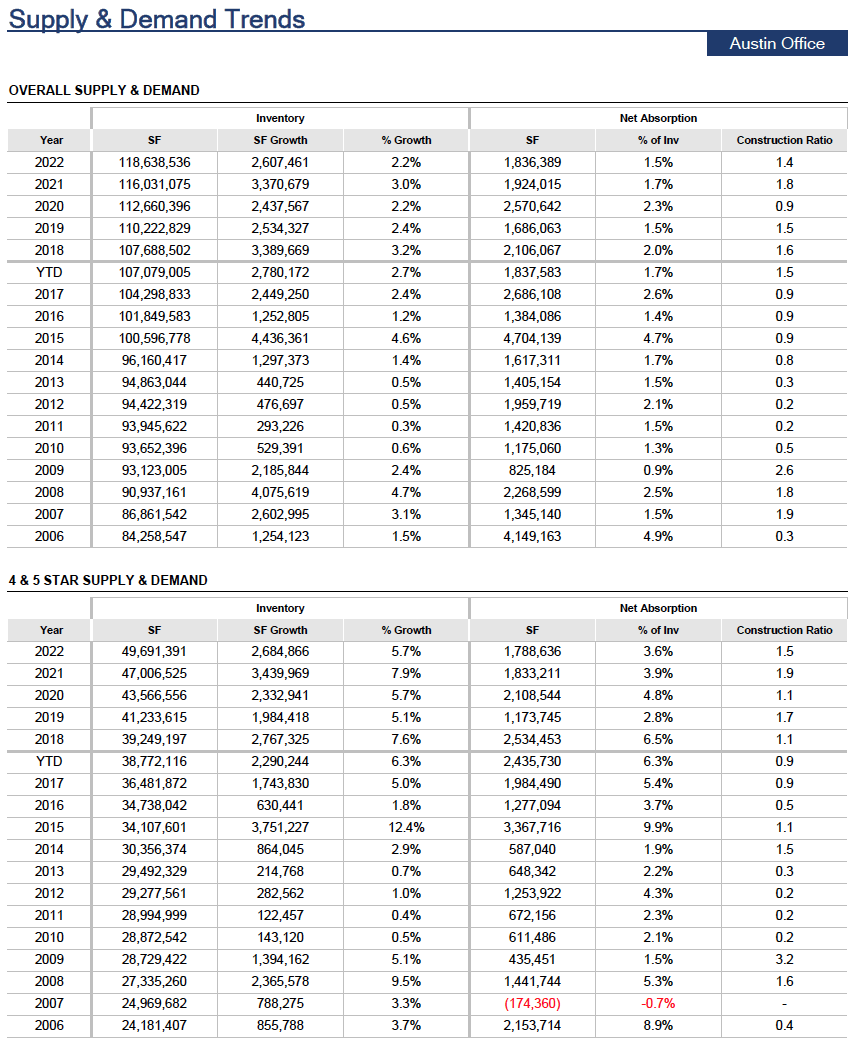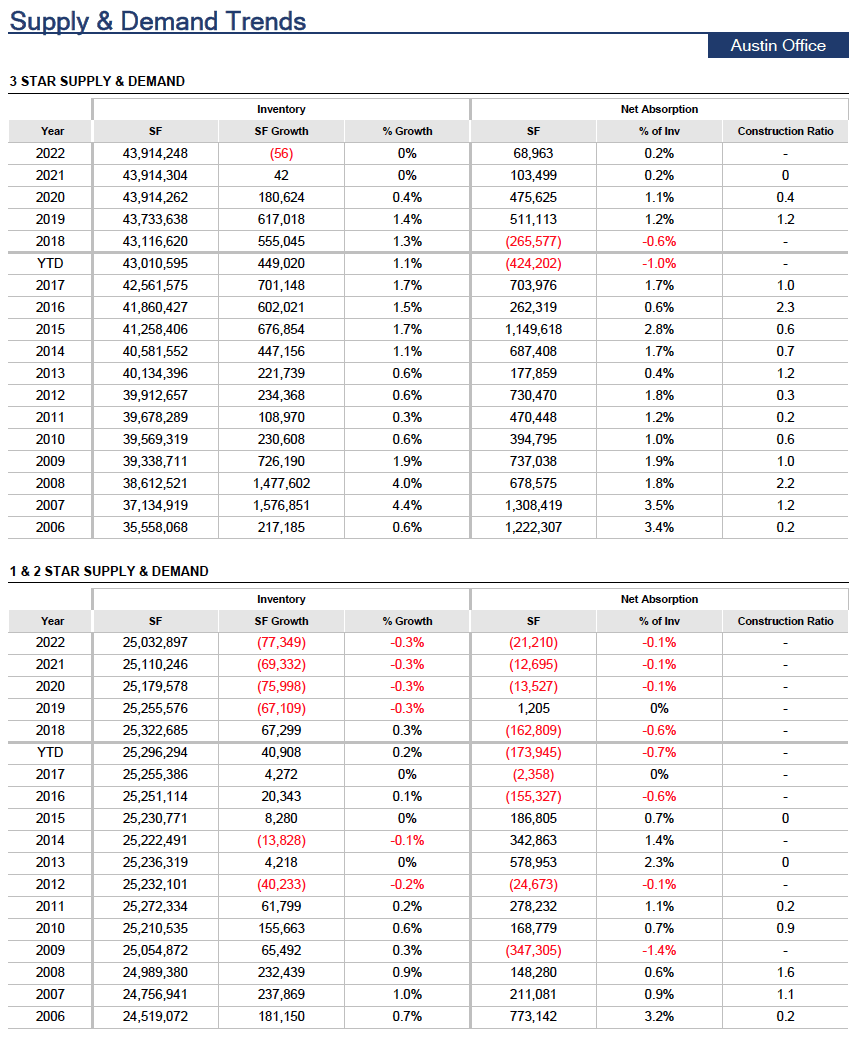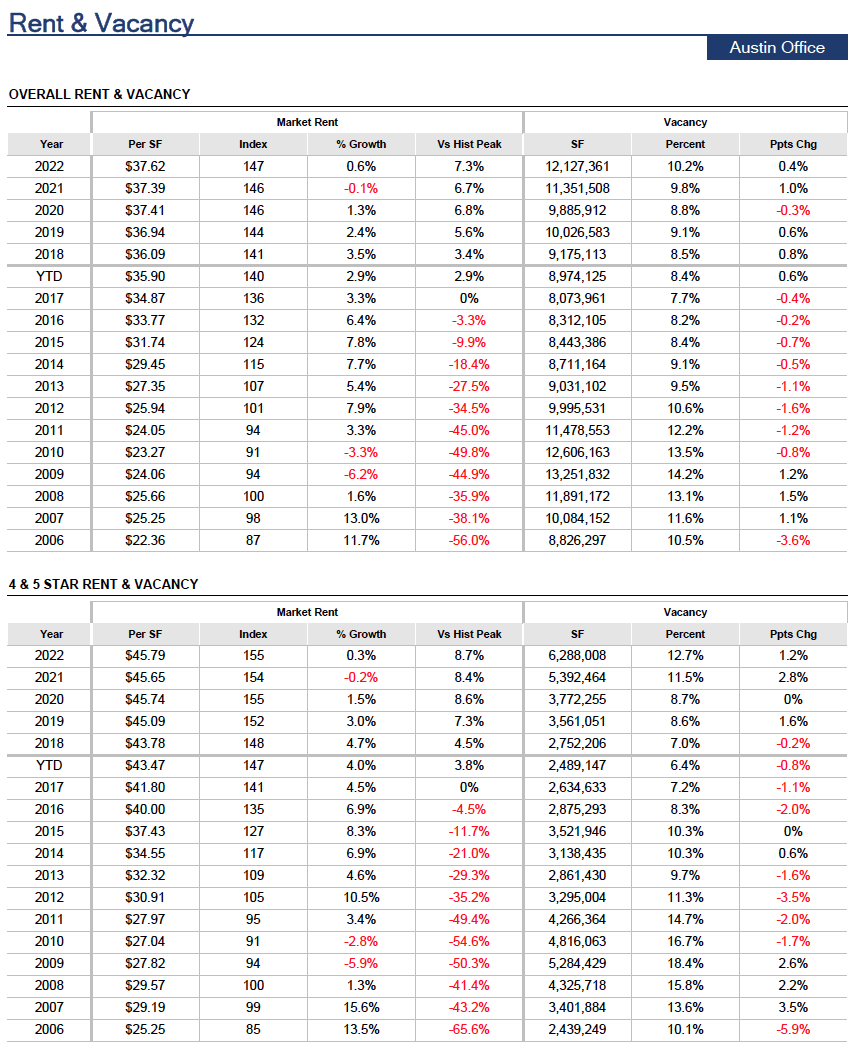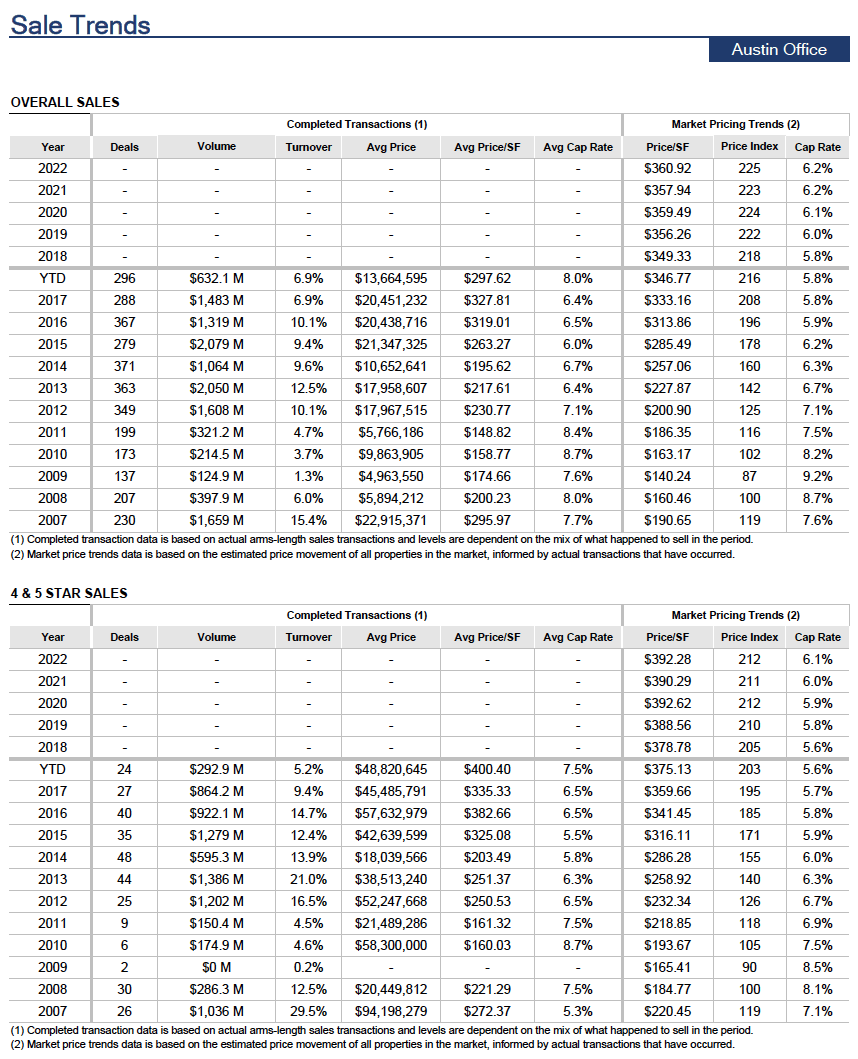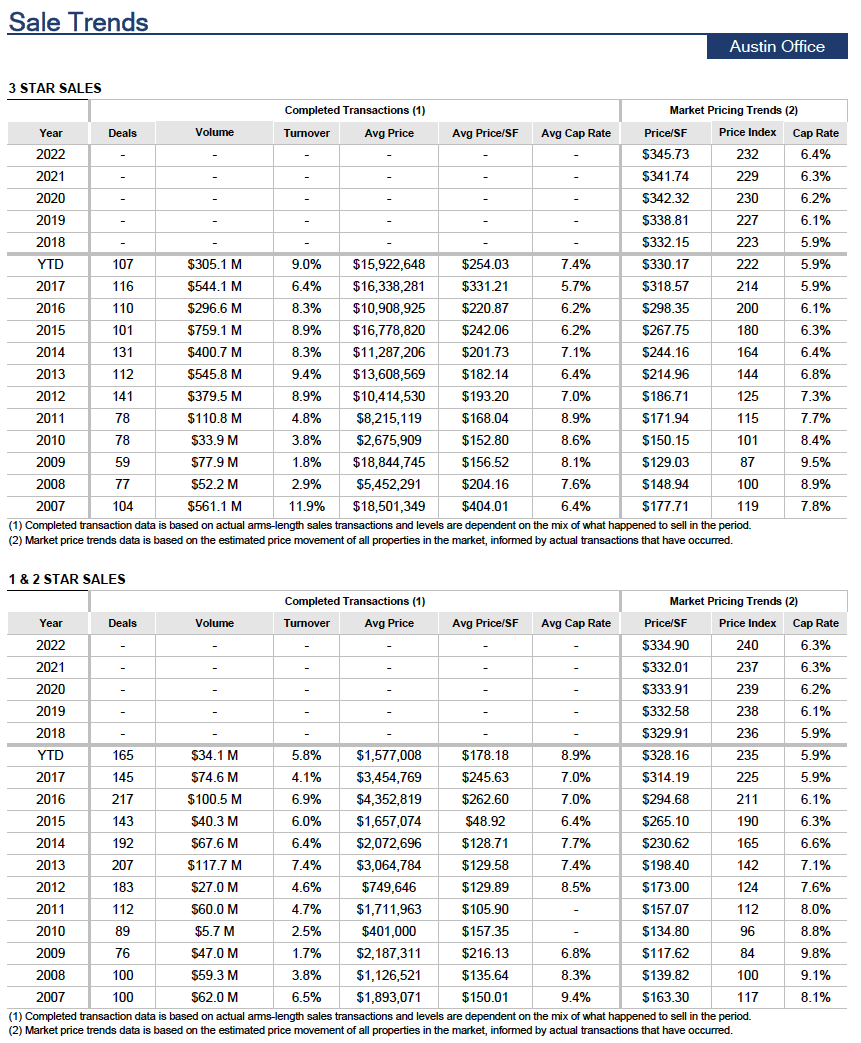 The City of Austin's market is trending at an all-time high. We regularly place companies in Austin and are here to help you when looking at that area or any Texas market. Please contact us.
Information based on CoStar Market Reports