How the Rise of Autonomous Vehicles Could Impact Future Real Estate Strategy
Although the concept of a driverless car was introduced in the 1930s, widespread efforts in the field of autonomous vehicle (AV) technology commenced in earnest about a decade ago. Billions of investment dollars by domestic and foreign automakers, countless engineering and design firms, and giant technology conglomerates have made AVs a reality, with various prototypes now regularly being tested on roads from the San Francisco Bay Area to Phoenix, Pittsburgh, Austin and the Washington, D.C., metro.
As we move toward a world in which AV usage becomes more commonplace, it is becoming increasingly clear that this technology is more than a mere novelty for futurists. As adoption grows, AVs are anticipated to have a significant economic, operational and cultural effect on how we live, work and play. With regard to commercial real estate, widespread adoption of AVs has the potential to significantly impact every sector of the industry.
Due to valid concerns about safety, security, future government regulation, and potential resistance to give up private cars, widespread AV adoption might take longer to become mainstream than some advocates predict. But assuming it does, how would this change our cities and, in particular, commercial real estate? With an eye toward the future, we examine potential implications for office, industrial, retail and healthcare properties and explore how real estate value could be unlocked due to such a disruption.
Highlights
• AV technology is a reality and advancing at a rapid rate.
• Although timing is debatable, widespread AV adoption is coming and may significantly change how cities and suburbs look and operate.
• Widespread AV adoption could have a profound impact on commercial real estate and change the way major property types are designed and operated.
• Property owners and developers should be thinking about the implications of AV adoption as they consider existing and future commercial real estate projects.
The Urban Landscape Reimagined
One assumption frequently made in relation to AV technology is that car ownership would decrease as adoption of AVs through ride-sharing services increases. According to one study, by 2030, private car ownership will drop by 80%, the cost of electric ride-sharing will be four to 10 times cheaper than owning a car, and the savings on transportation costs will result in a $1 trillion boost in annual disposable income for U.S. households1. If this trend comes to fruition, there will be notable changes to the urban landscape.
Reclaiming City Streets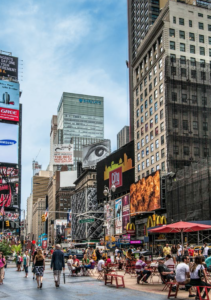 If one subscribes to the vision of some futurists, fewer vehicles on the road as well as the introduction of artificial intelligence will greatly reduce traffic congestion and accidents, 94% of which are due to human driver error. Cities could evolve to see fewer multi lane streets, street-side parking and signaled intersections, potentially freeing up more than 30% of urban space. Further, cities could once again become pedestrian-oriented as they reclaim real estate that has been developed over the course of decades around the needs of the automobile. Projects like New York City's recently completed 270,000-square-foot pedestrian recapture initiative in Times Square could be more common as cities figure out ways to repurpose busy city streets for additional retail, outdoor restaurants and open space.
Less Need for Parking
Fewer cars on the road would mean a dramatic reduction in parking needs. In fact, if AV adoption becomes widespread, the demand for parking across the U.S. may decrease 70 – 90%, cutting the need for parking spaces by approximately 60 billion square feet.5 6 Even if that prediction is high, city councils and urban planners across the country will need to re-evaluate parking requirements, a sticking point that has historically hampered development since minimum parking requirements have not allowed developers to build up to the maximum capacity. This may provide a massive opportunity to reposition or redevelop thousands of parking garages, surface parking lots and underground parking structures. In fact, architects and developers are already planning for the future when designing parking structures by incorporating features that can easily be converted to other uses, such as office space, retail or storage.
Effect on Public Transit
Some have argued that the pervasiveness of AVs would cause public transit ridership to decline. However, a more optimistic, opposing view is that AVs would complement public transit via first- and last-mile ridership from transit stations. AV adoption could help properties farther away from public transit attract talent as employees would
be able to ride-share a short distance from a train or bus station. This model is already developing in some markets. For example, Summit, New Jersey, partnered with Uber to subsidize rides to and from the train station, minimizing the need for additional parking downtown.
The Office of the Future
Imagine a new morning commute. Instead of entering your garage, you walk to the curb and jump into an AV. There's no need to warm your car, check traffic, plug in directions or concentrate on the road. An AV does all of that for you, giving you the freedom to read a book, watch TV, sort through morning emails or take a nap. You arrive at your destination, climb out of the AV and enter your office building. The AV moves to the next destination, dropping off and picking up other riders, never needing to park, and only occasionally having to recharge or refuel during the day. Due to AV technology, commuting to and from work would arguably be safer as human drivers weaving in and out of traffic lanes would be a thing of the past.
Of the +/-11 billion square feet of office space in the U.S., roughly 2.5 billion square feet is located within a Central Business District (CBD).8 Traffic congestion and parking constraints characteristic of CBDs present challenges for building owners, tenants and their employees. Assuming widespread AV adoption, office owners and developers may have to rethink how they utilize parking, whether it is an adjacent parking structure or an underground garage. Parking revenue averages 10% of a CBD office building's gross revenue; therefore, it would be prudent for owners to strategically reposition and monetize their parking if demand for this space falls off.
The rise of AVs also may add another pawn in the amenities war. Features such as curbside pickup and ride-share lobbies could become more prevalent as building tenants and visitors increasingly demand them as next-generation Class A office conveniences.
Suburban office properties could have an easier adjustment to widespread AV adoption, as most already have abundant, free surface parking and drive-up access in place. Parking ratios could decrease, which would be a major reversal from the recent occupier trend of increasing parking ratios for companies fitting more employees into less office space.9 As a result, like their CBD counterparts, suburban office property owners preparing for AVs should consider how they might repurpose surface parking and garages, or re-evaluate moving forward with additional parking plans.
Another Industrial Revolution
The industrial sector could see the most disruption of any commercial real estate property type from the implementation of AVs, particularly when it comes to warehouse operations, logistics and trucking. Assuming widespread AV adoption, much "creative destruction" — defined as the process by which something new brings about the demise of what existed before it — could occur in the industrial sector over the next 20 years. With thousands of warehouse and trucking jobs in danger of being replaced by increased automation, not unlike what the domestic manufacturing sector has already seen over the past 40 years, this transition may not be as seamless as many futurists currently believe.
Warehouses can be crowded places with inventory stacked high, oftentimes compromising efficiency and safety. Machinery such as self-driving forklifts and automated racking systems are slowly being integrated into warehouse operations. This trend is most commonly seen in large e-commerce distribution centers and a primary reason why Amazon acquired Kiva Systems, a maker of robots used in fulfillment centers, for $775 million in 2012.10 Programmed to navigate around warehouses on their own, these AVs can load and move large volumes of heavy or bulky materials without a human operator, adapting to their environment and creating a safer, more efficient facility. This has allowed for the construction of larger warehouses with higher ceilings, additional mezzanine space and greater power specifications.
A fully automated warehouse could theoretically increase productivity while reducing the amount of floor space needed for operations. This was the experience of aviation equipment distributor Zenith Aviation, which regained 60% of its floor space by converting shelving systems to better suit automated inventory storage and retrieval systems. In addition to newfound space, the automated sorting and picking system allowed for improved accuracy when selecting parts in inventory, which positively impacted daily operational efficiency and output. Overall, Zenith Aviation saw a 105% increase in the number of items it could stock within its warehouse without changing square footage.
Some of the biggest expenses within the logistics sector are the time and labor involved when distributing goods and finished products, accounting for approximately 60% of total expenses.12 Amazon is leading the way in reshaping the delivery process, expanding its presence of regional distribution centers to service over 40% of the U.S. population.13 The e-commerce behemoth also has begun building its own network of drivers for same-day delivery options as well as to supplement traditional delivery providers.

With approximately 70% of goods delivered via long-haul commercial trucks (a gap that is expected to widen in the future), the introduction of autonomous long-haul trucks would be a welcomed addition to an industry that is struggling from a shortage of drivers. There was an estimated deficit of 48,000 truck drivers in the U.S. in 2015 and this problem is only getting worse.14 Both Daimler and Otto (Uber's AV division recently renamed Uber ATG) have already successfully tested self-driving truck capabilities for long-haul, non-stop delivery.
While current trucking methods require drivers to stop and rest when traveling long distances, an autonomous truck could operate continuously between delivery routes, resulting in a more efficient fulfillment cycle and faster delivery times. Autonomous trucks would be on the road longer and, in theory, require less time at their destination due to automated warehouses, reducing the need for large truck courts in loading facilities. Overall, the boost in efficiency from autonomous trucks would cut down on distribution and shipping costs, as the manual labor involved and time spent between deliveries would be reduced.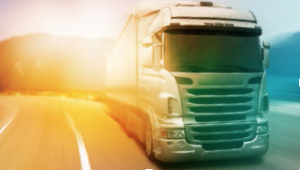 The future of industrial distribution and fulfillment centers largely depends on how the logistics sector reacts to the deployment of autonomous long-haul trucks. If AVs can trim time from the fulfillment cycle as consumers  are increasingly demanding, expect more supply chain disruption among e-commerce players of all sizes and across all distribution channels, including rail. Location and size of fulfillment centers and distribution buildings may need to be reconsidered as developers increasingly design these buildings with more flexibility, decreased surface parking for warehouse workers, and the ability to take advantage of higher floor-to-area ratios. When it comes to shipping and receiving goods overseas, faster fulfillment cycles may allow industrial facilities to relocate farther away from seaports and container terminals. AVs would be able to cover more distance in less time, allowing a single distribution center to cover a wider geographical proximity.
Ongoing Reinvention for Retail
The retail industry has seen more than its fair share of market disruption over the past two decades as e-commerce has indisputably changed the way consumers shop. AVs give retailers and retail property owners another reason to re-evaluate their real estate strategy, with potential changes in delivery, transportation to and from retail centers, and demand for certain types of stand-alone retail properties.
The introduction of AV delivery could solve the last-mile problem for many online retailers, which has been estimated as high as 28% of the total supply chain cost.16 For example, San Francisco-based startup Marble has teamed with Yelp24 to test an autonomous delivery robot for restaurants in the city's Mission District. After a customer orders online, the roaming Marble robot drives to the restaurant, picks up the order and delivers it to the customer's home, autonomously navigating sidewalks and roadways along the way.
Similarly, large retailers like Amazon continue to refine autonomous robots and drones to make last-mile delivery more efficient and cost-effective. With AV technology, the infill distribution center becomes increasingly critical to e-commerce companies, and makes the move into infill brick-and-mortar locations (e.g., Amazon's purchase of Whole Foods) that much more interesting. Larger retail stores might become mini-distribution centers in the future, relying on autonomous delivery robots to reach customers with same-day delivery options. However, swift progress may be curtailed by current road infrastructure, which is tight in infill markets.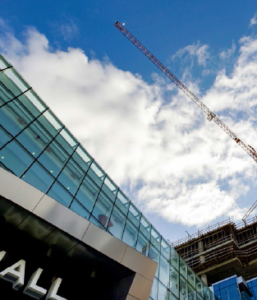 Shopping center owners and developers should also keep an eye on the AV trend. A typical suburban mall sits in the center of an expansive parking lot, usually several times the footprint of the mall itself, as it is the least expensive way to accommodate the parking requirements for mall patrons. Assuming widespread AV adoption, these vehicles will drop off patrons at the front door of the mall, pick up others, and drive to the new riders' destination. The need to circle for the closest parking space disappears.
As with office properties, vast parking areas at malls may no longer be needed. The opportunity exists for additional retail, restaurants or even residential properties. And when all other factors are equal, malls that have larger acreage currently allocated to parking may be more desirable to an investor looking for a redevelopment opportunity.17 Springfield Town Center in Springfield, Virginia, is one example where ownership is planning a massive redevelopment of surface parking to multifamily, office towers, new hotels and additional retail.
Beyond malls, retail properties that could be affected by greater adoption of AVs include auto repair facilities, car dealerships and the nearly 154,000 gas stations nationwide. Auto car dealerships and auto repair shops may disappear as we know them if private car ownership decreases. Gas stations, which typically occupy locations at highly visible intersections, could be converted to autonomous charging stations as electric vehicles are forecasted to surpass gas-powered vehicles by 2040.
AVs: Good for Your Health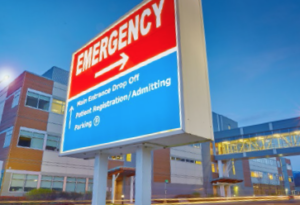 The widespread adoption of AVs could inadvertently affect healthcare both inside and outside of medical facilities. First, AVs are anticipated to be a safer mode of transportation when compared to today's human-driven vehicles. National statistics reveal that in 2015, of the nearly 6.3 million auto-related accidents reported in the U.S., approximately 2.4 million people were injured, with 35,092 injuries resulting in fatalities. Of those fatalities, 29% involved a driver over the legal limit for alcohol, and 10% involved a driver that was classified as "distraction-affected."19 An uptick in AVs could result in fewer driver-caused accidents, thereby reducing the inflow of injured patients to emergency rooms, trauma facilities and rehabilitation centers. This would in turn decrease the number of patients requiring an overnight stay in a medical facility or needing extensive rehabilitation. Owners of healthcare properties should consider the likelihood of fewer patients from auto-related incidents as AV adoption grows.
Like office properties and retail centers, parking at healthcare facilities can be a challenge, particularly on older hospital campuses in built-up or land-constrained urban areas. However, changes to parking requirements and a shift in patient volume could expand opportunities for real estate developers and existing assets. Healthcare properties could face fewer barriers for growth, allowing them to better service their communities and opening the door for new hospital wings, better on-campus amenities and specialized medical practices. In addition, as AV drop-off lanes are incorporated into facility design, patients with mobility issues might have easier access for non-urgent appointments.
Among the elderly, individuals who would otherwise be required to move to a live-in medical or rehabilitation facility may be able to put off that need given the greater access to mobility or curbside delivery AVs provide. This could lead to increased aging in the home, decreased demand for senior housing, and/or increased demand for senior activity centers. In fact, senior citizens are forecasted to be one of the top groups of early adopters of AV technology.
Never Too Early
AVs may prove to be the biggest disruptor for real estate since the invention of the automobile. Much depends on how widespread AV usage becomes and how quickly the shift occurs. While there are still hurdles in terms of government regulation and consumer preferences, the rise of AVs may create challenges and opportunities for all existing and future commercial real estate stakeholders.
Whether it be a developer determining how to repurpose surface parking, a tenant weighing options for new office space, a landlord contemplating the addition of building amenities, or even an investor considering how more home garage space may adversely impact the self-storage sector, strategically planning for how AV technology might affect real estate assets is a valuable exercise.
Authors
Jamie Mahoney, Research Analyst
San Francisco
Jamie.Mahoney@transwestern.com
Adrianna Boursalian, Research Coordinator
Silicon Valley
Adrianna.Boursalian@transwestern.com
Additional Contributors: Jeff Buckingham, Matthew Dolly, Karen Judson, Brian Landes, Darrell Magnuson, Elizabeth Norton and Michael Soto.