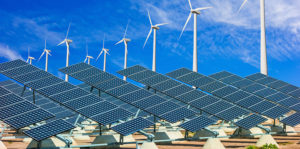 We are excited to support alternative energy and are seeing a rapid increase in the number of companies buying renewable power. In 2015 we had the privilege to help one of our local school districts, Southlake Carroll ISD, arrange and install a 700 kWh solar array on its high school.  Total financial consideration was $1.3MM with a $500K contribution from a local energy company.  We found the system worked well for the school and paid back the initial investment in less than 5 years.
With proven programs such as this one, midsize companies are joining giants like AT&T Inc. and Walmart Inc. in buying renewable power at a record pace. According to Bloomberg, 36 businesses, government agencies and universities have agreed to buy 3.3 GW of wind and solar power so far this year. That's on track to shatter the previous high of 4.8 GW of disclosed deals in 2017.
One of the key reasons is that smaller companies are more comfortable doing the deals now that others have gone before them, giving them a blueprint to follow. Smaller companies have benefited from growing standardization in the way companies buy clean energy. Renewable energy is often the cheapest source of electricity, and long-term contracts to buy power from wind and solar farms can also act as hedges against uncertain wholesale prices, per Bloomberg.
Local: Wind and Solar Power

Facebook's Fort Worth data center officially came online in 2017 and runs entirely on wind power. The center, located in a business development near Alliance Airport, took Facebook more than a year to finalize the power deal. From the company's good experience here in Texas, Facebook is supporting an effort to streamline the acquisition of green energy for all businesses.
Carroll ISD first invested in solar power in 2011 with the construction of Carroll Middle School. The campus features a 450 kW array covering 70,000 square feet of the rooftop, one of the largest school solar arrays in Texas. In 2015, we assisted Carroll ISD in adding the additional 700 kW solar array to the ISD's portfolio. One of the benefits of installing the solar for the district was to help offset annual utility costs and save local taxpayers. The district saves upwards of $60,000 a year with this program.
Subsidies
Forbes Magazine states in 2017 that on a total dollar basis, wind has received the greatest amount of federal subsidies. Solar is second. Wind and solar together get more than all other energy sources combined. However, based on production (subsidies per kWh of electricity produced), solar energy has received more than 10 times the subsidies of all forms of energy sources combined, including wind. Solar also gets the most state-funded subsidies, some of which greatly exceed the federal subsidies. To discover how you can purchase green power, download this guide from the U.S. Environmental Protection Agency and the U.S. Department of Energy.
You can find several programs at all levels of government to help businesses become users of renewal energy sources. EPA lists links here to green power partnership related programs and organizations. It touts the Center for Resource Solutions and Global Green USA programs in helping foster a global value shift toward a sustainable future. In your search, also include learning about certification programs that help business discover, finance and expand the market for clean, renewable energy, including the Green-e and Low Impact Hydropower Institute.
EPA's list of trade organizations and other government sites include links to the American Solar Energy Society, American Wind Energy Association, National Renewable Energy Laboratory and its own Clean Energy Programs, among many others.
Even small businesses can benefit from purchasing renewable energy and becoming more energy efficient. Here is additional information:
We have the experience when looking for facilities or workspace with available alternative energy sources. Contact us ­- we'll help you make the best decisions for your company.