Workspace Shrinking in Square Feet Per Employee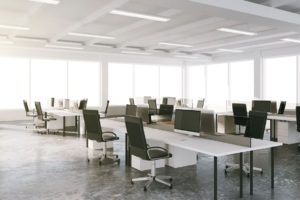 Much has been written about the need for office tenants of all sizes to reduce their real estate footprint, as real estate costs are typically second only to staffing on any given company's bottom line. What does shrinking have to do with density? Simply put, office density is the measurement of space per square foot per workstation. Lower density means more space per worker; higher density means less space and more employees.
The Culture Continues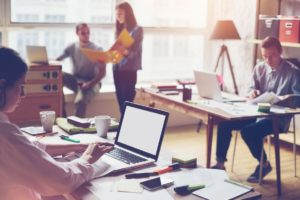 Our workspace is changing; actually, it's been rapidly evolving over the past 10 years to meet the needs of today's users. Several sources state that Millennials now make up more than one-third of the workforce and is the largest generation in the workforce since 2015. Millennials, and the upcoming group of Centennials, have different expectations and preferences for how they want to work compared with previous generations. The "creative" office environments often use single large tables for bench seating or even desks where employees rotate in and out. Efficient space design is the key to helping companies recruit, maintain talent, and cut spending on real estate (by increasing the numbers of employees but decreasing the size of the dedicated work space).
The shift in office space preferences is evident through drastic workplace changes, including a reduction from 260 sf to 180 sf per employee over the past 25 years. With the Centennial generation graduating from college and causing additional disruption in the workplace, companies now seek more ways to position themselves as a top choice for talent. Some companies project shrinking to an average of 150 sf per employee by 2020. The evolving workforce prefers their environment to serve as a hub of interaction. As for office space, landlords who haven't conformed to the new open spaces must now renovate their buildings to accommodate the higher density of workers.
Key Drivers to Higher Office Density
Technology. Employees now use technology for video conferencing and cloud storage allowing them to meet virtually and access documents from anywhere. This ability reduces the need for formal meeting space and physical storage, and allows employees to office outside the traditional company walls.
Mobility. Employees are now on the move – working from home, coffee shops and even while traveling. With policies in place, employees can have flexible work hours and location options with remote access technology. Per Deloitte's 2016 millennial survey, 75% of respondents desired the option to work from home. By 2020, about 72% of the workforce will be able to work remotely.
Hoteling. Owing to the increased mobility workforce, dedicated desks are becoming less important; thus, employees can use dynamic scheduling to float available workspaces when working in the company's office space.
Talent. The battle is on to attract and maintain good talent. Companies now promote cross-collaboration and innovation, which are valued by the newer generations. They also enjoy open floor plans, transparent office environments, and fun-use areas like those with Ping-Pong tables or other games.
Building Systems and Landlords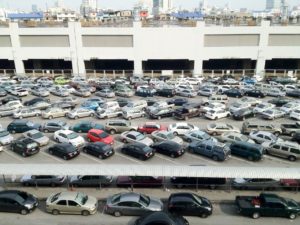 As I stated above, any landlord or building owner not up to speed with the desire for higher density has to change and conform to the newest trends because they have been coming for a while and are here to stay. The need for more efficient space and building systems to accommodate it will only increase as tenant footprints shrink. Higher density means changing a building's basic services to be able to handle the increase in people and the open spaces, including better HVAC, electricity, phone/data and internet services. Buildings also need to provide adequate restrooms and parking for the projected growth. Building codes often must change causing landlords to interface with municipalities; more complications, more updates, more money and time are necessary.
Office density is not a one size fits all and landlords must constantly improve and adapt. Contact us if you are looking for new office space; we can help.