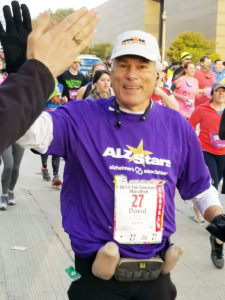 We were fortunate to represent the North Texas Alzheimer's Association in running the Cowtown Marathon last Sunday. We began giving to the charity in 2012. Thank you to all my friends who also contributed: this was my fifth run, and they really helped.
My determination to train or not train and then finish was totally within my control: it was 100 percent my responsibility. I took ownership and discovered that when taking those same ideals over into other parts of my life and business, it reminded me to take more responsibility for what affects my whole life and commit to my plans.
During training, I followed the following five maxims that can easily be applied to many aspects of life, but here I'm specifically looking at relating these areas to your business.
Training is a regimen that requires focus, dedication and commitment.
As in business, you can't let difficult challenges prevent you from following through with a plan; instead, you must use the hardships that come along as the driving force to see the commitment through to the end. The process doesn't get easier because you're dedicated to finish, but your focus and desire do help give clarity to your end goal.
While training for this past marathon, I experienced some hip problems that almost stopped me in my tracks. One of my kids had some health issues that caused some sleepless nights, which certainly did not help support, a stellar training program. Like many of you this flu season, I experienced symptoms. In addition to the injuries and family responsibilities, my role as president to one of the area's top commercial realty brokerages would fill my entire day and then some if I let it.
What got me through these hard times was the commitment I made and the strong vow that I did not want to break. Sometimes success can just be that simple.
Try to plan for everything. Have a goal and strong plan to reach it.
Many executives, especially entrepreneurs, grow their businesses by using their gut and intuition. However, when you hit adversity, not having a plan isn't the best or smartest choice.
A great thing about the marathon is there is a clear goal of 26.2 miles and a proven training schedule to reach it. When you're given a proven training plan, then you can place all energies on being mentally focused enough to keep up with the 30+ mile weeks, even when life throws in a few challenges that might get in the way. I realized that the stronger my convictions are in making my business goals and the complete plan to reach those goals, the more mentally tough I would become and the more able I am in overcoming any obstacles.
This leads to having the right mindset.
As business owners, we often focus on the outside challenges such as earning commissions, managing a team or acquiring new customers. Yes, all these issues are important and must be addressed; but, they should not take priority over the internal challenges we face every day like stress, self doubt, negativity, fear of failure, etc. These trials are the ones where we must have the right mindset with a positive attitude so no outside forces can stop you in your journey to success.
When training for the marathon, I turned to inspirational material (speeches, music, videos) that I could listen to while I ran. Without these items, it would have been hard for me to get through some of the tougher moments. This same type of inspirational experience sharing can be applied to business. It allows you to take the long view and work on the business instead of working in it.
For my long runs, I would run with friends of about the same ability. They were as encouraging for me as I was for them. It made the 20-mile runs go by easier.
Run through the wall.
As you know, we come up against walls sometimes in business. The key is to have the right partner or mentor to help see you through it.
While training, I was told that after mile 20 things happen in the marathon. For me, it happened unexpectedly at mile 10. I hit the proverbial wall. My hips were tight and had shooting pains. All the signals in my body were telling me to stop. But, I was lucky enough to have a more experienced running partner in my ear (my daughter), who kept pushing me the additional 16 miles. She motivated me and kept my focus on the finish line instead of the pain.
In business, we can all benefit from other people's expertise to get through the pain and hit our big goals.
Enjoy the new experience.
Luckily, as executives and entrepreneurs, it's in our DNA to innovate, learn new things and shake it up. My training for marathons is similar. I change my routes running through every neighborhood in my quiet little suburb, meeting new people along the way and finding new clients as well. Over the last 10 years, I transformed my mentality from someone who never ran further than a few miles at one time to a marathon runner.
Now, the question is, what will you do to shake things up in your life and business? What new dedication and commitments will you make this year?