What is flexible workspace?
Flexible workspace is defined as either coworking, serviced suites or vertical campuses. The core areas (those areas that are essential to your business) are contracted on traditional fixed leases or other medium- to long-term agreements, but the additional flex or swing options are "bolted on." These options could be in the form of additional meeting rooms such as project/training space or conference rooms that can be reserved as needed, community mail or copy rooms; social areas such as break rooms, bars, staff cafés, health facilities, etc., are shared with other building occupants.
Coworking
Coworking spaces are essentially shared workspaces. They offer affordable office space for those looking to escape the isolation of a home office or coffee shop. These shared workspaces offer a suite of office-like amenities such as hot-desks, private meeting rooms, kitchens, coffee and more. Often, they also offer a community. Occupants typically are freelancers, entrepreneurs, startups and small teams who want to take advantage of a flexible space.
In addition to culture, cost is another big draw. One of the advantages of these spaces is the ability to rent out only what you need vs. an entire private office space, which can be costly. Through various membership-based models, costs vary and allow for flexibility. These include options for daily fees or monthly fees. Membership costs also differ based on whether you use a shared desk or want a dedicated one.
Serviced suites
Serviced suites (or apartments) are a type of furnished apartment available for short- or long-term stays, which provides amenities, housekeeping and a range of services for guests and where most taxes and utilities are included within the rental price.
Serviced suites offer facilities much like a traditional hotel, but with added space, convenience and privacy. They have private cooking facilities—sometimes a kitchenette; sometimes a full-size kitchen—with dishwasher and washing machine, larger living/sleeping areas than most standard rooms, and often having access to gyms, restaurants, meeting space, concierges and other hotel-like services.
Vertical campuses
Many companies have been leasing space in what is now being referred to as a "vertical campus," which means a high-rise building (or several buildings located near each other) where companies can lease large blocks of space and build out amenities for their employees—similar to a traditional suburban campus. Examples of vertical campuses in San Francisco include Salesforce (2.3 million square feet at Salesforce Tower, 350 Mission, 50 Fremont, among others), LinkedIn (450,000 square feet at 222 2nd Street), Google (800,000 square feet at One Market Plaza, 188 The Embarcadero, and Hills Plaza), and Uber (500,000 square feet at 685 Market and 555 Market).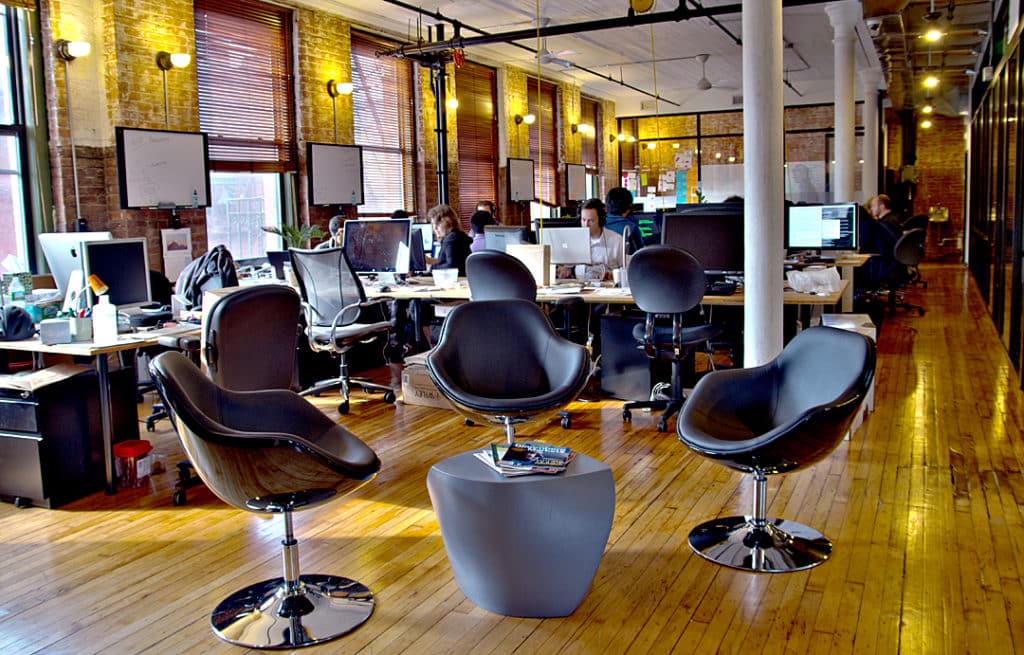 Benefits of Flexible Workspace
Can help you prepare for uncertainty and change
When you rent out a flexible space, you essentially pay for as much as you use. Monthly rental is priced per head, meaning that a coworking or serviced-office package is customized according to your stage of growth. On the other hand, traditional office leases are set at a fixed price per square foot over at least three years, meaning that they are best for businesses with stable headcount projections in the long term.
Additionally, for corporates and enterprises, flexible space and long-term space do not have to be mutually exclusive. In what is known as the "core and flex" setup, businesses may take a traditional office lease for their company headquarters (the "core"), while also taking up additional flexible space (the "flex") in other locations as a way of testing new markets, establishing satellite offices, or connecting specialized teams with more resources and networks. In this way, businesses get the option to experiment and "mix and match" their workspace options for the ultimate flexibility.
Keeps overhead costs low
When it comes to leasing a traditional office, several costs come to mind: upfront costs for fitting out the space, maintenance costs, and utility costs — and that's on top of the hefty time required (typically several months) to get a bare unit into shape. At a flexible space, you don't have to worry about shouldering these costs. Flexible spaces are fully fitted with the necessary amenities, including desks, chairs, carpeting, as well as other shared amenities like printing services and a pantry space.
Attract and retain engaged employees
Coworking spaces, in particular, are known to stress the importance of fostering a community of like-minded members who can support each other's growth. Additional perks of a shared space can go a long way in improving employee satisfaction, and in turn, talent retention.
Sometimes called city campus arrangements, or "vertically integrated community environments," they are when occupiers take one or two floors of a high-rise office as their core space, but then share centralized services, social or support areas outside of their rentable area. The core floors usually have an internal stair, so staff move between the floors like a low-rise campus.
Why it benefits landlords to get on board!
The flexible workspace industry is booming. According to projections from the coworking magazine Deskmag, 1.7 million people were working from approximately 19,000 coworking spaces worldwide by the end of 2018. Companies seeking to meet the demands of a more mobile workforce are rethinking traditional office setups and turning to other flexible workspace environments instead. Coworking is ripping up the old playbook of real estate being a defensive asset class. Instead, with the brand premium aspect coworking adds, it is becoming something more fluid. The number of coworking venues has grown by 240% globally over the past three years, and around two-thirds of current coworking spaces anticipate expansion — of 70% of their area on average — and one-third plan to open at least one more location. Thus, the days of 10-year leases being the only way to generate income from commercial real estate are behind us. Shorter leases on collaborative, flexible workspace are fast becoming the norm in major markets everywhere.
As this trend is likely to continue, shorter-term and more flexible leases—as well as building customization—are likely to define the future of office real estate. For landlords, this can translate into more income per square foot as coworking spaces yield between two and three times more revenue per square foot than traditional workspace offerings.
This model can work particularly well for vacant space, providing building owners with the chance to attract and build relationships with new types of tenants. Landlords can rent smaller sections of space to startups that might be traditionally thought of as high risk for bigger commitments, and for those young companies that succeed and expand, landlords will reap the rewards as they grow and come to occupy more space.
Further, there is already evidence that coworking venues are becoming an effective sales funnel for longer-term and more lucrative landlord/tenant relationships that, in part, resemble more traditional arrangements.
---
It's safe to say that the flexible workspace market is not a trend—it's here to stay. And projections say it is only going to grow. Contact me when you're ready to obtain additional flex space.